One thing is for sure: the online shopper is only getting smarter.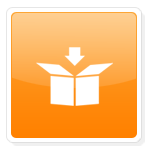 As we alluded to in an earlier post, the recent recession and proliferation of Daily Deal "crowd purchase" sites like Groupon created a consumer that is discount savvy and willing to seek out the best deals out there.  In turn, this created the retail environment of the perpetual sale, in an effort to entice customers to spend their hard earned dollars with them.
In this sort of environment it can be easy for a retailer to get stuck playing the one note discount over and over ( 10% off everything! This weekend only (forever)!).  However, changing up your online sales and discount promotions can be an important way to restore interest in your brand and boost sales more effectively than a simple across the board percentage off a total order.
There is no perfect formula for creating the perfect sale, but here are three ideas for injecting some dynamism back into tired deals:
Volume Discounts. Whether you're promoting percentage or dollar discounts, giving price breaks based on volume is a great way to move surplus inventory while gently encouraging customers to increase their overall order.
Publish Your Coupon Codes. Before making a purchase, many customers will attempt to save money by doing a quick search for coupon codes on sites such as retailmenot.com.  Realizing that many customers will find coupons this way regardless, some retailers like Macy's have taken to publishing their active coupon codes right on their website under an "Online Deals and Promotions" section.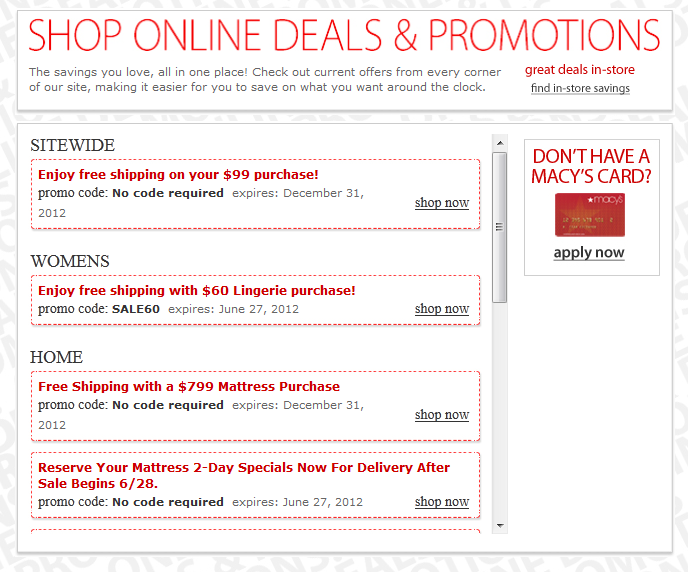 While the practice no doubt results in increased coupon usage, the convenience encourages customers to stay within the site, and increases conversion rates.  According to SeeWhy Strategy Officer Charles Nicholls, 40% of customers who visit the Macy's Deals and Promotions page go on to make a purchase on the website.
 Get powerful software to manage all the deals you dream up.  Coming up with great ideas for sales is one thing; implementing that sale, and automating it to ensure that everything goes smoothly is another.  Luckily, Upshot Commerce's Coupon and Discount Extension gives you the tools to make that happen. Considered to be one of the most flexible e-coupon systems available today, the Coupons and Discount Extension enables you to create rule based coupons for your web store.  The extension even supports multiple rules for each coupon, which means that you can specifically target what brand, price point, category or type of customer you want to focus on.  How specific can you get? How about:
Free shipping with the purchase of a specific item
Discounts on a specific brand
FREE items automatically added to shopping cart when a certain value is reached
Buy 1 Get 1 Free
New Customer Only Discount
Discount Based on Customer Classification
Discount Based on Amount Spent
Discount Based on Payment Method (Visa, MC, AmEx, etc.)
Tax Free Coupons
It's so customizable, if you can think of it, we can probably make it happen.
The Coupon and Discount Extension is available to all users of the Upshot Commerce Core Platform at NO additional cost.  Could there be anything better than a deal like that?