ORDER MANAGEMENT SOLUTION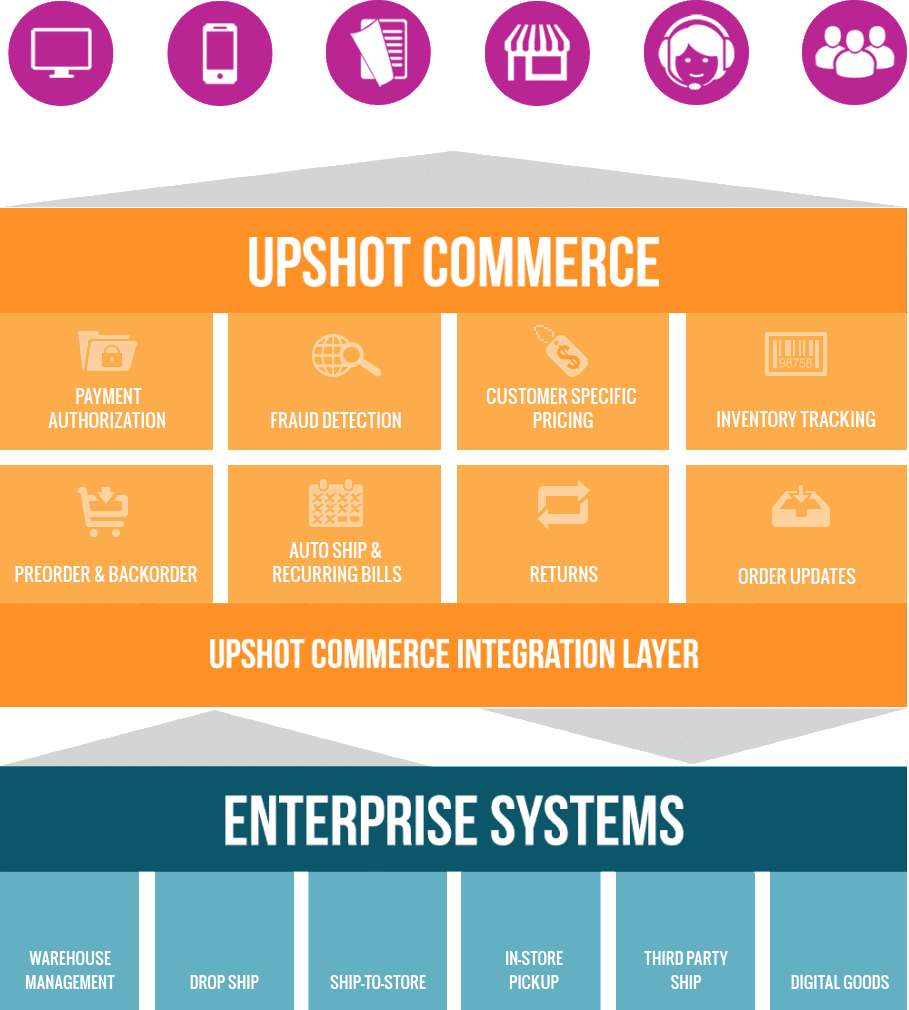 The Upshot Commerce Order Management System (OMS) is mature and proven solution for capturing omnichannel orders and orchestrating intelligent order fulfillment. Whether used in conjunction with the Upshot D2C or B2B solutions or integrating with your existing retail systems, the Upshot OMS is a powerful, customizable and cost-effective solution for conquering the challenges of omnichannel retailing.
OMS FEATURE LIST
Empower call center staff with a common interface for multichannel orders. Fully customizable with the ability to tailor views and workflows per user type or group, Upshot's OMS Customer Service features are ideal for empowering your staff to quickly and efficiently identify and resolve customer service issues.

ORDER INTAKE
Use our core order workflow statuses or add your own statuses
Place order as an administrator user or call center agent
Easily search for existing customers
Specify how the customer found your store
Add referral or keywords to order notes
Add special instructions for warehouse staff or distribution center
Add internal order notes for customer service or call center staff
Add product by search, browsing, direct enter SKU or eBay ID
Quickly browse brands, models/names and SKUs by index letter or number
Select sort option search results
Add coupon codes
Add Reward Point discounts (if applicable)
Save order if customer cannot complete and wishes to return
Allow for in-store pick up and one or multiple stores
Automatically send e-mail autoresponders and triggers
CUSTOMER BROWSING AND SEARCHING
Assign multiple groups to customers and users
Search for customers by selectable metadata
Filter view by registered or guest customers
See which registered customers are on your site right now and their cart contents
View deleted/inactive customers
CUSTOMER PROFILE MANAGEMENT
Batch update users to delete, assign to a group or make active or inactive
Allow customers to be tax exempt
Manage payment information
Manage multiple billing and shipping addresses
View complete order history
View and manage Reward Points account (if Rewards Point Extension is enabled)
View items that a customer recently viewed
Update the customer's password or any other metadata
Add internal customer notes with priority, flags and email reminders
Add unlimited miscellaneous fields per customer
View and manage a customer's wish list
Masquerade as the user and view your retail web site as the customer
View coupons used by the customer
View gift certificates used by the customer
Place a new order for the customer
CUSTOMER GROUPS
Create unlimited customer groups
Allow specific payment options per user group
Allow specific shipping methods per user group
Contract price levels - assign a price per unique group
Create viewing rules and apply to all or select customer groups
Restrict or allow product, category or site access on a group by group basis
The Upshot OMS is well-suited for optimizing and managing multi-channel inventory. Sophisticated inventory management, assignment and protection capabilities ensure your business' ability to get the right products to the right customers on time.

Sell physical or digital products and services
Various inventory control options, globally and per product
Specify a Store Price, Retail/MSRP and cost
List the quantity in stock at one or multiple warehouses
Specify the quantity in stock at one more multiple physical stores
Specify the quantity in stock with a drop ship provider
Set a Minimum Order Quantity allowed
Set a Maximum Order Quantity allowed
Allow a product (or group of products) to be tax exempt
Allow the product to be visible or visible, active or inactive
Specify whether or not the product should appear in search results and upsells
Allow for price overrides by call center agents
Specify whether or not the item should be included in Inventory Valuation reports
Specify a SKU, model or both
Set a character limit to the Model name
Specify a brand name
Specify a short description or along description
Select a pricing visibility rule; visible to everyone, visible when added to cart or price sent via email
Set triggers to receive email re-order reminders when stock reaches a certain threshold
Allow customers to received Price Alert notices if a product reaches a customer's target price
Sophisticated out-of-the-box order control capabilities allow your business rules to guide the progress of customer orders. Whether you need to route high value orders to a secondary approval queue, or ensure products cannot ship to states where they are prohibited, Upshot's customizable Order Control features help keep costs down by automating and enforcing the order controls your business needs.
The complexities of logistics and shipping are compounded for organizations with multiple distribution centers and retail stores. The Upshot OMS allows organizations to define ideal fulfillment scenarios based on the order composition, destination and shipping option. This powerful capability allows business' to fulfill their brand promise to the customer while keeping the costs of order fulfillment to a minimum.

Batch process by all packages, selected packages, search results, tags
Batch update order status
Choose whether or not to send customer email update for batched processed orders
Batch download and print cover pages, invoices, packing slips and shipping labels
Export orders to Endicia's Dazzle
Export orders to Quickbookx
Batch download and print packing lists
Batch send e-mail invoice
Create custom batch operations
Batch export to Shopping Cart Assistant format
Pick lists and barcode integration
Allow customers to checkout as a guest or registered user
Enforce registered user-only checkout option
Add special instructions for warehouse staff if field is available
Add coupon codes
Add Reward Point discounts (if applicable)
Opt for in-store pickup on one or multiple stores
Upshot's OMS allows for order cancellation by both customer service staff and, if allowed, but the customer. Leveraging business rules defined by your organization, the inventory can then be returned to inventory and the payment method refunded. Seamless and efficient order cancellation allows you to meet and exceed customer expectations.

Built-in features for common warehouse needs
Customizable order statuses and workflow for unique warehouse needs
Barcode integration with UPS, FedEx, and USPS
Print picklists with pick-bin or warehouse location tags
Sort picklists by most popular items, alphabetically or define
Batch print and process invoices, packing lists and gift notes
Beautiful PDF templates included and fully customizable
Batch inventory updates via CSV file upload
Quickly identify problem orders
Create triggers to auto-update order status
Send/resend customer emails
Automatically trigger fraud rules and require order verifications
Enable in-store pickup
Enable shipping from multiple distribution centers
Internal note tracking and notification system
Automatically send autoresponders, triggers, and move statuses based on defined actions
ADDITIONAL CONFIGURATION OPTIONS
Specify shipping cut off time
Allow/disallow taxing shipping charges
Enable and/or specify handing fee for shipments
Allow customers to select multiple shipping methods and addresses per order
Enforce shipping to single address
Enable one page per invoice
Enable sort order lines by SKU
Specify shipping label paper width and height
Opt to hide barcode on peeling labels
Opt to hide top address on peeling labels
Opt to hide barcodes on invoices
Add package IDs to barcodes
Ensure your business rules for identifying and routing high risk orders are enforced for all orders. The Upshot OMS Fraud Hub was created to ensure identification and surfacing of potentially fraudulent orders to the appropriate members if your customer service staff, thus allowing your organization to significantly reduce the indigents of fraud and chargebacks.

UPSHOT COMMERCE IS LEVEL 1 PCI-DSS COMPLIANT
Upshot keeps customer data protected behind firewalls
Upshot does not use or allow vendor-supplied defaults, system passwords or security parameters
Upshot uses and regularly updates anti-virus software
Upshot develops, maintain and update secure systems and applications
Upshot restricts access to data on a need-to-know basis
Upshot assigns a unique ID to each person with computer access
Upshot restricts physical access to cardholder data
Upshot tracks and monitors all access to network resources and cardholder data
Upshot maintains a policy that addresses information security
SECURITY FEATURES
100% Managed cloud computing infrastructure
Hacker deterrent security provisioning
Enterprise-grade network architecture
Real-time intruder detection
Firewall protection
Daily PCI, Nessus and virus scanning
HTTPS:// and SSL support
24/7 network & security management by dedicated system security specialists
Hourly back-ups
IP blocking
Multiple Role-Based Administrator Accounts
No credit card storage option
PCI Level 1 DSS 2.0 Certified Tokenization
Strong password enforcement
90-day forced administrator password changes
Back office geographical and proximity real-time validations
Back office IP restriction access and brute force detection
Distributed Denial of Service (DDoS) attack mitigation plans and correction
The Upshot OMS Stock Information capabilities ensure your organization fulfills it's promise of on time and accurate delivery to customers. Stock information is managed and maintained in a single repository, thus ensuring a single source of truth regarding stock for retails of all compositions. Multiple warehouses, drop ship inventory and even POS data can all be stored in our highly customizable and powerful OMS.
When you've spent years building and growing your ecommerce company, developing systems that meet the specific needs of your business, the prospect of moving to a new platform may seem daunting. Transferring your databases to a new platform may not be feasible, but you know it's time to update and upgrade. With Upshot, that's not a problem. Our platform seamlessly integrates with numerous legacy systems, such as EDI, XML, and AS/400, allowing you to retain essential systems you currently use while also updating your site to adapt to the changing ecommerce landscape.
PROFESSIONAL SERVICES
You've spent time and effort winning over your loyal, enthusiastic customers. It's time to upgrade your system to a better ecommerce software platform, but you don't want to lose the special spark that keeps you ahead of the competition. Upshot offers tailored professional services to ensure that you preserve that spark and grow your business using the tools right for you. With Upshot, you are not pigeon-holed into a rigid, pre-defined set of ecommerce tools - we'll work with you to figure out what works, and give you the training to successfully use all those tools. All Upshot platform features and extensions work on-demand, as-is - and are also fully customizable by our experienced team of ecommerce strategists and engineers.