Direct-to-Consumer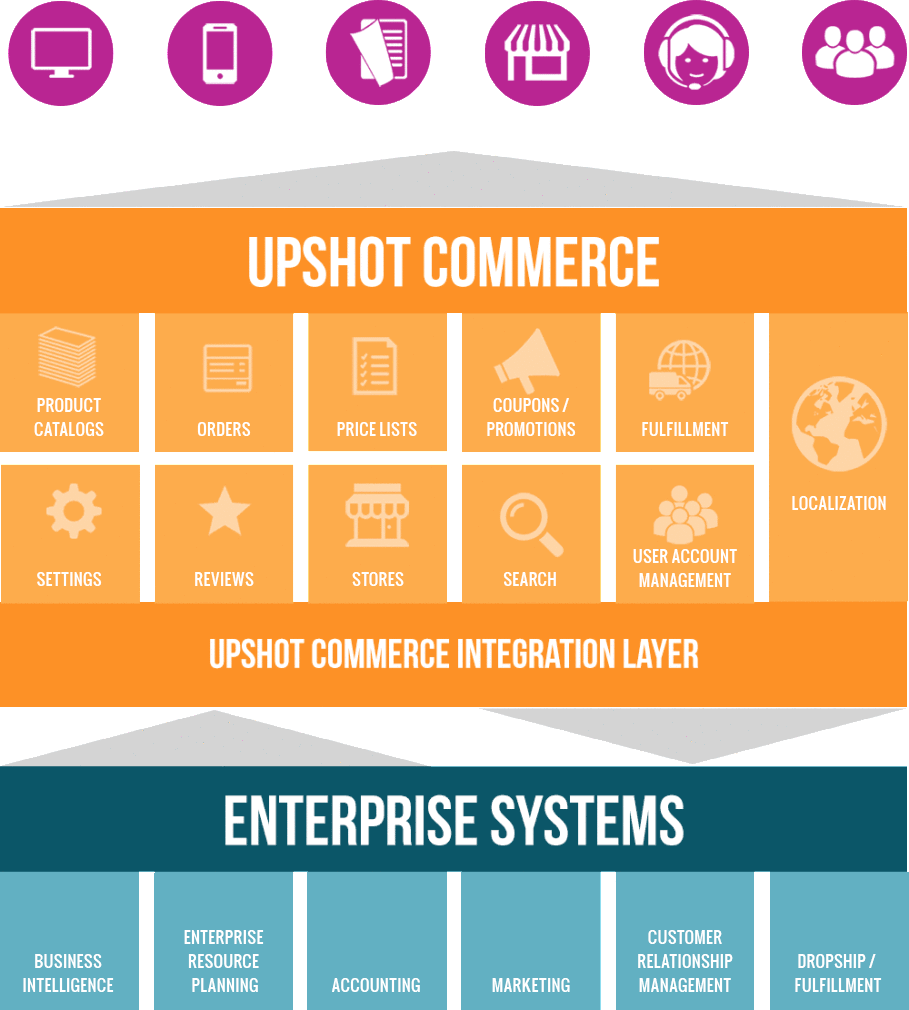 The Upshot Commerce Direct-to-Consumer (D2C) platform is a feature-rich solution for high growth and established retailers. Proven and scalable, this extensible solution allows retailers to capture, convert and service an omnichannel customer base. With hundreds of features out of the box, this flexible D2C omnichannel platform adapts to your unique business needs.
D2C SOLUTION FEATURE LIST
CATEGORY MANAGEMENT
Create unlimited categories and depth via bulk import or one at a time
Easily create custom fields
Flag a category as visible or invisible
Override SEO metadata on a per-category basis
Specify product sort order when displayed globally or per category
Specify how products are displayed globally or per category
Choose different layouts and landing pages per category
Automatically launch promotional ajax-popups per category
Add category content via back office, no HTML or FTP knowledge needed
IMAGE MANAGEMENT
Easily mange images through admin interface
Display multiple images per item
Automatically overlay a "New", "Free Shipping" or "Low Stock Alert" badge on images for new products
Upload one image and the Upshot Platform creates the numerous permutations to appear throughout your site
Batch update product images
Images delivered from CDN to ensure fast delivery
Bulk images from computer, web site or FTP
Auto-creation of alt value for images
Automatic addition of watermark on image
Advanced caching system will automatically resize and distribute images
Easily add videos to display on product pages
Add and manage product related documents, such as instruction manuals
PRODUCT BUNDLING & ATTRIBUTES
Specify unlimited product attributes
Create unlimited parent-child product relationships
Create product bundles and kits
OTHER NOTEWORTHY FEATURES
Display unique templates per category or per product
Display code blocks or styles based on manufacturer, brand or other stored variables
Manipulate product search results displays or category product listings to show bestsellers and/or only-in stock products
Unlimited flexfields per product and category
Enable built-in product voting to enhance customer engagement and community building
Option to allow guest, registered checkout or both
Various inventory control settings for back-orders, pre-orders, etc
Add multiple items to cart at once
Allow one-click reorders
Enable and/or enforce "Agree to Terms & Conditions" checkbox during checkout
Loyalty Rewards points (if Loyalty Rewards Extension is enabled)
Coupons, gift certificates or discount codes
Ability to limit number of coupons, gift certificates or discount codes used
Provide real-time shipping quote estimates
Allow Call Center agents to save an order for later
Enforce minimum or maximum order quantities
Custom checkout form fields available
Allow customers and/or call center agents to upload CSV file for faster ordering
Allow customer service staff to override pricing in customer carts if permission allowed
Upsell/suggestive selling
Highly configurable shipping rules
Fail-safe chained payment gateways
Digital locker - send downloadables after customer purchases speciic items (manuals, etc)
ABANDONED CART MANAGER
Save and track abandoned carts
Specify number of days to save abandoned carts
Create unlimited email triggers and notifications to customers of abandoned carts
Create unlimited email triggers and notifications after certain products are purchased
Specify which user groups will receive email reminders
Send email reminders to individual customers
Use Google Analytics to track conversion rates of abandoned cart email notifications to sales
Tag keywords and tags to email URLs to help track conversion rates
View reports to spot trends in abandoned carts
Integrate seamlessly with Google Adwords to track campaign effectiveness
SEO-FRIENDLY FEATURES
SEO-friendly product URLs
SEO-friendly brand URLs
SEO-friendly category URLs
SEO-friendly page links
URL re-write option for products, categories and pages
W3C valid templates
Dynamic title tags
Dynamic meta data
Dynamically generated link titles and alt tags
Dynamic Google Sitemap XML creator
Ability to generate random content (helpful for SEO)
SEO features evolved to stay current with best practices
Specify valid date range or allow for no expiration date
Set the total times a coupon can be used
Set the total number of time a single customer can use a coupon
Enforce "New Customer Only" coupons
Specify whether or not coupons can be used with gift certificates
Specify whether or not coupons can be used with other discounts
Specify a minimum and/or maximum discount allowed
Manually enter a code or have our system generate a unique discount code
Determine whether to show discount at Review & Complete Order Page and not on Cart Preview Page
Select from a variety of options for coupon: Free Shipping on Brand, Free Shipping on Category, Free Shipping on Item, Add Free Item to Cart, Reduce Price, Reduce Price for Category, Reduce Price for Item, Reduce Shipping Price, Reduce Tax
Select action for when coupon can be applied: Brand in Cart, Registered Customer, Specific Date/Time, Item from a Category in Cart, Item in Cart, Order Subtotal Threshold, Order Type, Payment Method or Shipping Method
Batch update coupon rules
Batch update coupons
Reuse coupon rules
Enable coupon codes via email click-through to web site
View coupon use reports by month or day
Allow and specify points earned for registration
Allow and specify points earned for writing reviews
Allow and specify points for referrals
Allow and specify points earned for first order and subsequent orders
Specify point expiration
Set maximum points that can be applied to an order
Set percentage of points that can be applied to an order
Specify the points earned per dollar spent
Specify the pointed needed to earn to discount one dollar
Allow points to be awarded when order is paid, after order ships or specify days after order ships
Disallow Points Only orders
For points only site, specify points currency rate
Opt to show points savings in thumbnails
Allow customers to write reviews as registered or unregistered users
Specify whether reviews are automatically approved or require review
Dis/enable product reviews on a global or per product basis
Allow customers to write product reviews and assign a point or star rating
Edit or delete reviews from back office
Allow customer to earn points for approved product reviews
Define triggers to send customer reminders to write product reviews
MERCHANDISING REPORTS
Total item views per month
Total item views per day
Top products
Total category views per month
Total category views per day
Top categories
Total coupon uses per month
Total coupon uses per day
Top coupons
At a glance merchandising report
VISITOR REPORTS
Top customers
Top referrers per month
Top referrers per day
Top referrers
Top browsers
Top OS
Top browser OS
Time on site
At a glance visitor report
BLACK SHEEP REPORTS
Abandoned carts per month
Abandoned carts per day
Top exit pages per month
Top exit pagers per day
High stock cost-low order rate
Low profit products-low order rate
Real-time international currency conversion
Real-time international shipping quotes
Allow customers to select between different, localized and/or translated versions of your site
Numerous international payment gateways supported
Option to use international date formatting
Display multiple currencies
Bongo International integration
SED International Integration
Associate language and currency when toggling between country-specific versions of site
Specify per-currency symbols
D2C PROFESSIONAL SERVICES
You've spent time and effort winning over your loyal, enthusiastic customers. It's time to upgrade your system to a better ecommerce software platform, but you don't want to lose the special spark that keeps you ahead of the competition. Upshot offers tailored professional services to ensure that you preserve that spark and grow your business using the tools right for you. With Upshot, you are not pigeon-holed into a rigid, pre-defined set of ecommerce tools - we'll work with you to figure out what works, and give you the training to successfully use all those tools. All Upshot platform features and extensions work on-demand, as-is - and are also fully customizable by our experienced team of ecommerce strategists and engineers.
Legal Disclaimer: Logos, Trademarks and/or copyright marks are owned and registered by their legal owners. The use of any logo, trademark does not constitute endorsement of any product or service.