2013 has been a great year for Upshot Commerce, and to celebrate,  we put together an infographic to highlight some statistics and important milestones we achieved this past year.
We've completed a lot of challenging projects this year. Here are the highlights from just a few of our favorite new features and extensions for 2013.
PCI Security
Security has always been a primary concern for our team at Upshot Commerce. This year, we made a number of improvements to our platform in order to increase security and obtain official certifications of compliance. Our official security improvements include:
PCI-DSS Level 1 Compliance
FIPS Compliant
PII encryption
The process for obtaining these certifications is complicated and extensive; so much so that not all ecommerce platforms are able to complete the process. As such, we are very proud to have reached this important milestone in our company's development. To learn more about PCI Compliance, check out our blog here: Did You Know That Upshot Commerce is PCI Compliant?
Purchase Order Extension
Knowing what to order is a constant challenge for many retailers, which can consume entire departments and numerous man hours. The new Purchase Order Extension allows for queued ordering and receiving of purchase orders, as well as restocking statistics to let admins know what needs to be ordered. The system is fully integrated into the Upshot Commerce inventory system in real-time, which allows for greater stocking accuracy, with better visibility.
Backorder & Drop Ship Extension
Accurately managing backorders, pre-orders and drop ships is often a challenge for many retailers. The new backorder and drop ship management extension automates a large part of the backorder process, handling backorders and in stock items harmoniously under one system. Importantly, the extension can be adapted to work with many different business rules with regards to charging of backorders and drop ships, splitting shipping charges across packages, and combining backordered items with in stock and drop shipped items. When used in conjunction with the purchase order extension, the backorder & drop ship extension makes the entire ordering and fulfillment, alerting the administrator in real-time of any pending backorders or drop ships that need to be fulfilled. When items are received from the supplier, the extension automatically allocates stock into waiting orders, ensuring that customers receive backorders as quickly and efficiently as possible.
Design Feature Enhancements
We're committed to offering all of the latest design and merchandising features to allow our clients to create fully modern and optimized sites to deliver the most conversions. New features include:
Express & One Page Checkout – speed up the checkout process and increase conversions by reducing the number of pages your customers need to pass through to complete an order. Repeat customers can place an order very quickly, bypassing the traditional checkout steps.
Endless Scroll Category browsing & Lazy Image Loading – Create seamless long pages with minimal load times to reduce a customer's need to navigate to other pages
Solr Search Improvements – better search capabilities with full-text search, multilingual options, real-time auto suggestions and more
Drag and Drop Category Sorting – organize categories dynamically with easy to use tools, aimed at the a more visual experience. Perfect for apparel retailers.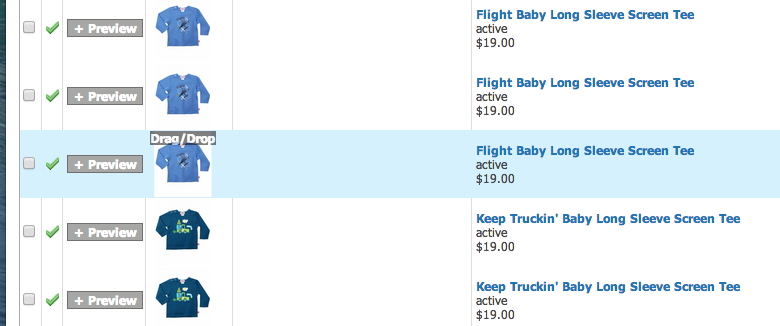 For a full list of all our new features, enhancements and extensions, check out our What's New List.
What's on Tap for 2014
There are a number of features and projects that we will be working on for 2014. Here are just a few to look forward to:
Back Office Redesign
We've incorporated client feedback and best practice concepts to develop a host of new backend features that are more intuitive and more customer-friendly, yet still packed with all the functionality that Upshot Commerce clients have come to expect.
eCommerce Accelerator Theme
Start your new site off on the right foot; our new accelerator theme is designed out of the box to incorporate all the best practice concepts to give your site the ideal foundation to begin and build on.
Mobile Executive Dashboard
More than ever, business is 24/7 and extending outside of the office. Our new executive dashboard is designed to give admins and business managers a working view of the Upshot Commerce back office, allowing them to view and manage orders, access reports, inventory data, and other timely information, all from a mobile device.
Upgraded Reporting Dashboards
Reports are what make data actionable. Our new reporting dashboards will allow our clients to easily view reports to display the important information that they need, quickly accessible with the click of a button.
Data and Asset Scheduling
This feature will allow data managers to roll out site changes in an organized and fluid manner, by holding certain updates to all occur at a pre-scehduled time. This means no live products without images, or pages with partially filled in data; just seamless updates.
Detailed Auditing
Tracking issues and piecing together how a problem occurred can be have the work on the way to the resolution. This service will offer more detailed accounting of order, site and inventory changes over time. This will allow admins to see not only what specifically was changed, but also what representative made the changes.
If you have any questions about our new features, or about projects we have in development, please do not hesitate to contact us!