Part 4 of 4 – Fulfillment
In the first three parts of the E-commerce Playbook for the Holidays we discussed how to use Data Analysis to create an effective Holiday Sales plan, how to focus your Marketing in order to achieve the best ROI and what the top Site Optimizations are for maximum impact during the holidays. With this final post we will discuss how to work with your partners to ensure smooth and friction-free fulfillment during the 2014 holidays.

With all the previous stages we were dealing with processes and elements you as a merchant can control directly. When we talk about fulfillment though – the focus is on how to work well with your partners to ensure your customers get all their gifts on time and as ordered.
Top Goal: Have Your Product In Your Customers Hands On Time
There isn't any other period of the year when timing is that important. This is why while you may be focusing on advertising, or marketing, or site optimizations – you need to have someone on your team, who keeps track of the pipeline of orders. This person should be on top of all your different partners, drop-shippers and suppliers and he or she should be able and ready with back-up options if things change late in the season. The top priority as with marketing is attention to the big three:

The first thing about fulfillment is to think through what it means to support these three days. Even the best marketing or a super-optimized site will have failed if the order doesn't reach your customer before Christmas, or before that airplane flight, or road-trip. And this will not only impact your sales, but will most likely have a longer term impact on your brand and on your relationship with that customer.
So the key is – long before the holidays you need to talk to your suppliers and partners to forecast demand and to iron out details. Nobody can be surprised by the volume and these conversations need to ensure that your customers receive quality gifts on time.
Leverage All Tools In Your Platform
Even when you have someone, who stays on top of your pipeline of orders you will have better results and peace of mind if you use technology to automate data flows and processes. When orders accelerate come black Friday what you really need is a system that does the monitoring for you, with the ability to automatically sync shipping and tracking numbers, drop-shipments, etc. and do this across different warehouses and shipping locations, using API integrations, automated FTP uploads etc. The point is – you still need to keep on top of this, but you need a system that does most of the work for you, so you don't need to check every single order.
An added benefit of a platform that allows you this kind of automation is that you can now give your customers continuous fulfillment updates on your site.  Leading up to Christmas, customers can proactively chose shipping options for themselves to get their products when they need it. We have all seen notifications like "To get it by Dec 21st – choose 2 day shipping".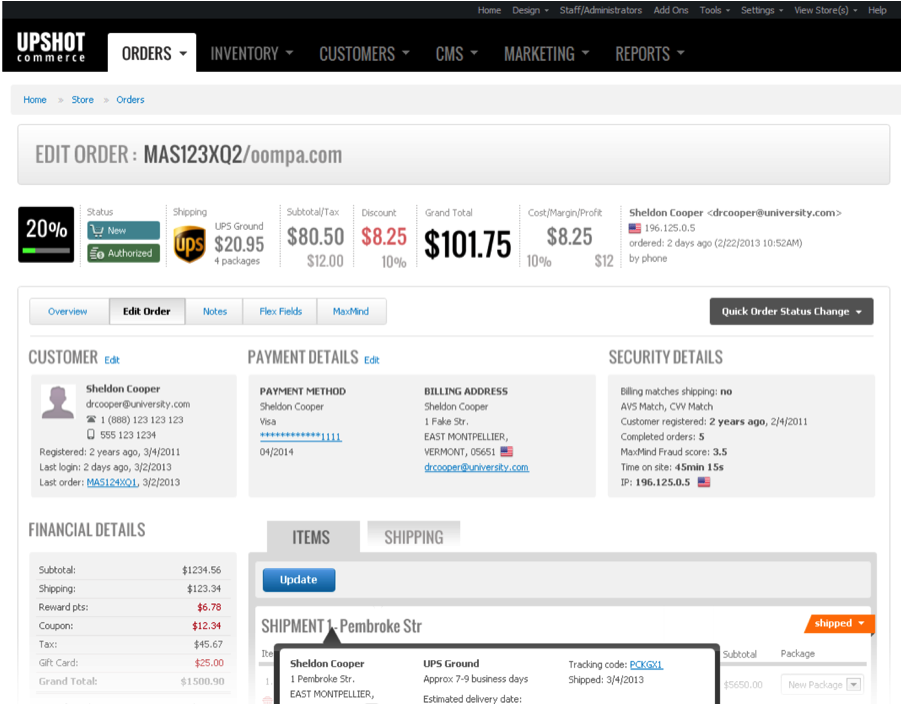 A screenshot from the Upshot Commerce Order Management tool.
Fulfillment and The Black Swan
It's often critical to plan for the best-case, not just for worst-case and most-likely scenario. What will happen if your top products sell like crazy and on top of this your marketing amplifies the trend and you end up with 3 or 4 times the number of orders you had planned for? Will you supplier network be able to satisfy the demand, take on the additional load without a hiccup? Maybe they need a heads-up if your volume is about to exceed a certain level – so they can hire extra hands, or ramp up production or shipping. What about the seasonal "it" products? If your supplier offers that one item on every customer's wishlist (and every merchant's buy list) will you have any guarantee of priority with your supplier? Will you still be their priority when they suddenly are overwhelmed?
All these questions refer to situations that have the potential to grow into black swans events – highly unlikely, but with the potential to do a lot of damage to your brand. The main idea is not to try and predict this type of event, but to work with your fulfillment network to build ability for robust response to negative developments and also – be prepared to exploit the positive ones.
Keep It Simple (If At All Possible)
Often the highly nuanced product lines, with tons of customizable options have the tendency to increase complexity exponentially. Every time there is an additional option, it increases the amount of complexity to shipping, manufacturing and virtually every part of your fulfillment process. So try to keep it simple and as few SKUs as possible, or at least without a ton of new ones.
Set Customer Expectations: Under-promise and Over-deliver
If in your experience most orders reach destination in two days, tell your customers it will be three or four days. When they get the product earlier they will be happy and if the order is a bit late – nobody will notice, because they expected that extra day or two. If your customers are very patient on the front end and take their time choosing when they're ordering, they certainly will not be patient when they feel like something is wrong and they might not get their product on time. As a brand you want to avoid that.
USPS, UPS, Or FedEx
According to The Blueprint – there is a broad rule of thumb in regards to your shiopping choices: If your total package shipment is under five pounds, then USPS is often the better choice. If the shipment is over five pounds, you are usually better off with UPS, and FedEx is best for same-day deliveries and other express options. In your specific business you may have noticed different trends. Do you see any difference in profitability, or customer satisfaction, or anything else – based on the chosen shipping carrier? These differences are likely to be amplified during the holidays, so think ahead of time through the different scenarios to help push the trends in a desired direction.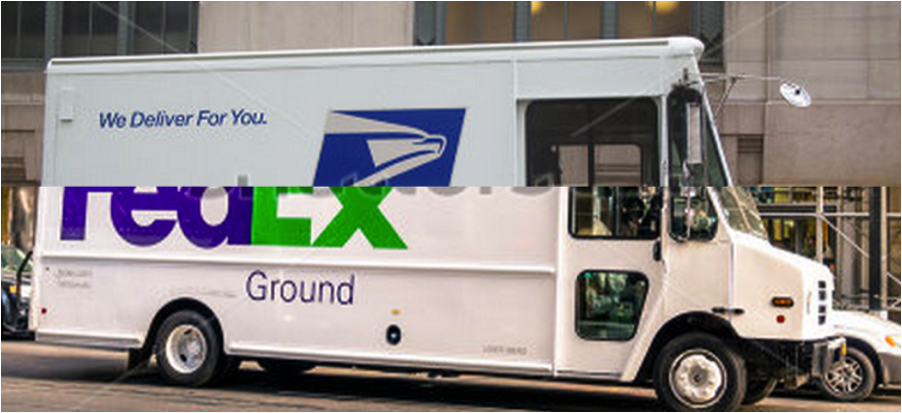 Bottom Line For Fulfillment Stage:
Fulfillment is all about working well with your partners and suppliers, so coordinate with them ahead of time and let them know your plans for the top three most important days – Black Friday, Cyber Monday and Free Shipping day. Have a designated person to stay on top of the order pipeline and make it easier for them by leveraging technology to automate the process. Plan for the best case scenarios as well as for black swan events. Keep it simple if possible, under-promise and over-deliver and figure out best shipping options.