Part 2 of 4 – Marketing
In our first part of the E-commerce Playbook for the Holidays we discussed how to use Data Analysis to create an effective Holiday Sales plan. Today we will focus on Marketing.

This stage is based on the same strategy used for the Data Analysis phase. You want to determine what worked from a marketing stand-point last year, what is working this year, and what you want the message to be going into next year. While the primary focus is sales, using marketing to position your business for after the holidays should be a close second. It is also important to consider what you want to learn for 2015. There will be a lot of activity and the holidays can be the perfect opportunity to test new strategies, innovative promotions or messaging.
Most Orders vs. Highest Order Value
When analyzing what worked last year you will see a lot of short visits in response to your promotions. This is a clear sign of comparison-shopping – a visitor came and then left and most likely searched for the same product at cheaper prices. Together with this you will also notice another sign of comparison-shopping – conversions happening after multiple visits.

Certainly price promotions drive sales and there will always be one item that brings in the highest number of orders. This success should be considered together with the promotion that brought the highest profit-per-item overall.  To craft a winning strategy for 2014, you need to look at a combination of these two and determine what is your best chance to maximize business. Let's say for example that one coupon campaign for product X results in $20,000 in sales, with $10,000 profit, while another campaign for product Y results in $10,000 in sales with $7,000 profit. Which one of these two would you rather focus on? Despite the obviously higher profitability of product Y – there isn't one right answer. Perhaps there is a solid reason why product Y will not exceed last year's sales by too much, but product X could easily double or triple its performance. You need to determine which is more likely and plan accordingly.
The Third Dimension
Once you have determined what marketing brought in the most orders and the most profits, you need to add to the equation the 2014 year-to-date. What worked and keeps working? What is different from the last holiday season and is this difference expected to hold for the rest of the year? These are some of the questions you need to answer.
For instance – consider the buying behavior of your returning customers! How did they perform in 2014? Were there repeat purchases, other changes in buyer behavior?

Ideally what you want to be able to calculate is the ROI of your marketing efforts and not just for the holiday season, but over time as well. If you acquired new shoppers last Christmas – how many became regular and loyal customers? What was the financial contribution of these new customers?
In addition to ROI and margin standpoint – you need to evaluate your marketing from a creative standpoint, from a traffic-generating standpoint, from the overall contribution to your brand and the brand image you are building. Your goal is to identify and take into account how attitudes and buying behaviors change over the course of the year and to adjust your marketing accordingly.

The Mobile Factor
The most striking change to consumer buying behavior in the last 5 years has without a doubt been the rise of mobile.  It is important to consider how the mobile experience is affecting your business. Are your campaigns optimized for the mobile user? Will your email marketing or AdWords campaign be as effective on mobile as it is on the desktop? Mobile presents difficulties and new requirements for mobile optimized and responsive sites, product and landing pages. Mobile could also present exciting new opportunities for marketing and retail. If the majority of your organic visitors are on a mobile device, then perhaps you have unique advantages over your competition. Perhaps instead of a more traditional marketing you can invest into mobile marketing campaigns and see how the ROI compares to your other marketing efforts.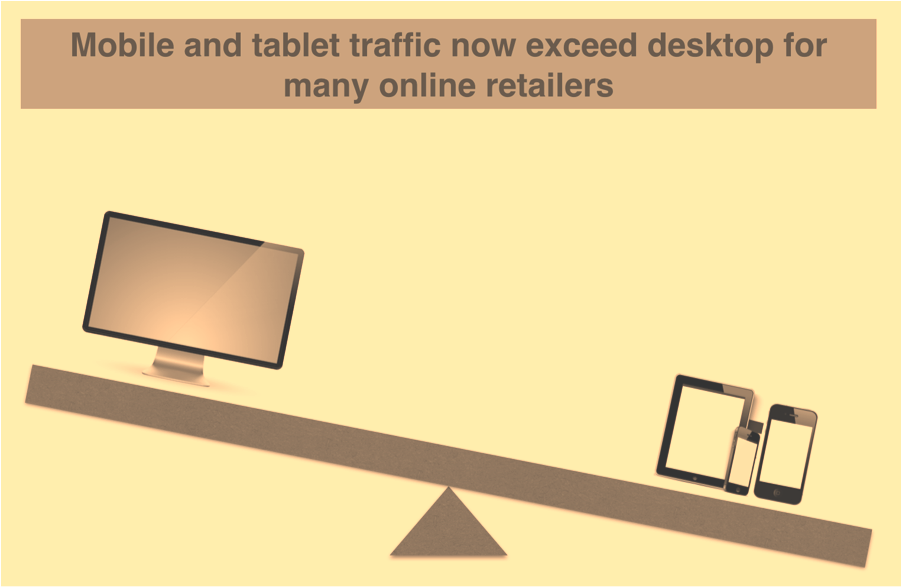 Consistency Rules
Because of the information overload during the holidays one of the first and most important best practice is to match your promotion message across channels. If your promotion offers "35% off winter jackets", then when the potential customer clicks the link – they need to see the same message, with the same offer and the same graphics. A lot of retailers fail to follow that and instead point their campaigns to the main store, or to the product category page, which often doesn't even display the same graphics for the promotion. Also – when the customer goes to the physical store – they should be able to see the same offer, messaging and graphics. This is an excellent way to maximize the ROI of your marketing and it has the added benefit of creating in your customers' mind a feeling of consistency and a clear path to what they are looking for.
Timing Is Everything
Next you need to look at your projections and figure out when the best-case scenarios happen – will you have enough products. Also if your campaigns perform better than expected – have you adjusted the spending widgets on the advertising platform you are using so budget is not exhausted just when your campaign is converting at its best? Also you need to figure out if you will have the marketing budget for the entire holiday season if everything goes full-steam. You don't want to be in the position to run out of marketing dollars for your AdWords campaign just before some of the most important dates on your timeline.

Bottom Line For The Marketing Stage:
Determine your marketing strategy for 2014 based on ROI analysis of both last year's holiday season and the current year-to-date trends. Adjust tactics based on expected buyer behaviors and consider the increasing influence of Mobile. Make sure your messaging and promotions are consistent across channels.
Please check back for our next post, or sign up for our blog updates. The next topic is Website Setup for Christmas 2014.