Ecommerce success factors for your website
How to sell more and make the most of your platform
Selling online comes with its own set of challenges. Unlike selling products offline in the physical realm, the customer cannot actually see or touch the product they will eventually buy. The sales environment is less personal and immediate; the retailer cannot approach the customer directly to influence their decision or make the sale unless the customer seeks out the retailer specifically with questions or comments. This is why the key to any successful online business is using all of the technology and virtual resources on hand to your advantage.
For the purpose of this study we'll use the classic AIDA* model that identifies the cognitive stages a user goes through during the buying process. This process acts as a funnel where potential customers decrease at each stage until they reach the action of buying. In this study we will outline best practices to make the most of your ecommerce site.
Attention/Awareness - attract the attention of the customer
---
Interest - raise customer interest
---
Desire - convince customers that they want and desire the product or service and that it will satisfy their needs
---
Action - lead customers towards taking action and/or purchasing
Attention
Attention, or how to BRING USERS TO THE SITE. Most traffic to websites is search engine driven. This will require some SEO efforts, meaning businesses have to use the built-in SEO tools available in their ecommerce platform to optimize their searchability. Most platforms have these tools, so not going that extra mile to make use of them is simply a wasted opportunity to increase site traffic. Every opportunity to be noticed among the competition and bring traffic to the site has to be used.
Assuming users have noticed you in the SERPs (Search Engine Result Pages) and decide to click on your link, next key thing is supporting as many devices and screen resolutions as possible. As this does not depend directly on your efforts, make sure your platform is agile towards new technologies. This means you can respond to the always-on customers and give them the opportunity to buy wherever they are.
Interest
Once you have the visitors on the site you have to keep them there as long as possible. Keeping visitors interest is done by
IMPROVING PRODUCT DISCOVERY
, using clear, well-structured
menus
. Here you can be flexible and display products either in order of revenue generation, popularity or the way you think will be suitable for your target audience.
As buying is an act very much influenced by emotions users want to identify with what they buy, to feel good, beautiful, powerful, appreciated... To emotionally engage them, create additional categories for types of shopping by lifestyle, trend, etc. focusing on what problems products solve and how they relate to the consumer. Again, keep in mind what your target audience is.
The best solution for businesses with very 'deep' inventory categorization is the so called '
mega menu
' where even low-level categories are exposed. That way visitors can find what they are looking for at once, reducing unnecessary clicks which will save them a lot of time and help to increase conversions.
Another handy tool to make it easier for the users to find what they are looking for is
faceted navigation
. With the help of faceted navigation, one can quickly refine large product categories or search results by price range or any relevant attribute. Having this on your site shows you care about the visitors and want to facilitate them in finding the right product for them.
Faceted Navigation
Sometimes called faceted search or browsing, this term refers to a technique of accessing site information according to a classification system of multiple filters. This allows users to segment their search results by specific information elements such as author, format, color or size.
Search field
is a must have for every online store. Most visitors head straight to it when they land on the site. For optimal experience search should come equipped with auto suggestions, sorting of the results and keyword highlighting. Even if there are no relevant results, businesses should not miss the opportunity to engage the customer. Providing similar to the searched information from the company's blog, search tips, or some other relevant data (value added content) helps to keep the customer active on the site and engaged in the process.
Category page structure
is another factor that can affect a customer's engagement. There is no universal method for organizing a site; retailers need to tailor their category structure to the products that they sell. If you want to show more products in one page, a grid format should be used, which puts the focus on product images. In cases when a brief description or more information is needed, list format will be more suitable. Some retailers may even find it necessary to display both options for the visitor to switch between.
Enabling users to sort products by price, popularity or other attributes makes it possible for them to quickly find what they want within a category. Allowing the customer to choose the number of products displayed on a page is a useful feature for people who do not want to browse lots of pages.
In addition to basic merchandising in categories, some
highlights
for "New Arrival", "on Sale" etc. can be used to draw the attention of the visitor, making it easy to identify what she's looking for. Other
labels
on products that come in handy are "bestseller" or "most popular" which are created to tap into the communal knowledge of customers to determine what is most interesting or most worthy of purchase. Having this knowledge will make many customers more confident of their own purchases, armed with the knowledge that an item has a track record of proven value. To achieve the same effect as the latter you can show also show
product ratings
.
A lot can be done with merchandising and the purpose here is not only to keep visitor interested but to also turn that interest into a desire to learn more about a product and ultimately to buy it.
Desire
Smartly executed merchandising plays its role and makes the visitor click on a product link that leads to the product display page. This is the place where businesses selling online have to be really persuasive and
PROVIDE ALL THE INFORMATION
shoppers need to make a buying decision. For that to happen sellers have to trust in the effectiveness and quality of the products they sell, even better if they are inspired about it. This can be shown with the Product Detail Page.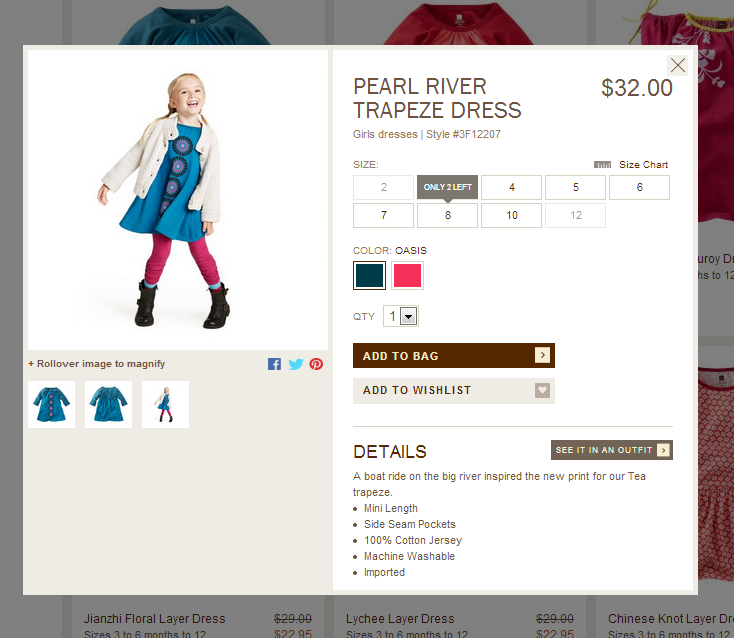 Original photography
is very important in reassuring users of the product's quality. Zooms, alternative views and even better - videos help to entice the visitor to buy. Color
swatches, sizes
, size guides - everything that will give more information about a product and how to choose the right options is useful to show the users that you want not to just sell them your products but actually care about their needs.
Educating the shoppers
positions the company as an expert in the market you are selling and builds a trustworthy relationship. It also means that the company is confident in the products they sell, and shares its knowledge with the audience, teaching it how to recognize a quality product while browsing the internet.
As stated before users like to be reassured of their choice and because of that they always feel more confident when there are
ratings and reviews
of the product. If this is not enough, the company can further emphasize the quality of its products by including
Facebook comments
functionality in the site. This is a social proof of quality that is sometimes perceived as more trustworthy by the visitors than onsite reviews.
You have to make sure it is as easy as possible for the customer to purchase the item, when the time comes. Highly visible and clear product options, quantity fields, CTA (Call to Action) buttons are absolutely mandatory, the user has to be able to identify them at once when she comes to the page. Shopping should be easy and convenient, not a mental exercise. If you make the process difficult for the customer, you may lose the sale.
In some cases the product turns out to be out of stock or not available yet. You have to be prepared for this with options for
back order
or
pre-order
of the product. That way you don't miss the sale you just postpone it a bit.
Even if the visitor does not buy the product, you have to be prepared with other options to engage her. Offer the option to add the product to a
wishlist
, a
registry
, or
share
it in social networks. These are all steps that bring you closer to completing a sale.
On this same note you should also have
upsells, cross sells
, and anything else that can prevent the user from losing focus and exiting your site. Having the initial interest of the visitor and the desire to learn more you should not miss her. You can offer complementary products, bundles, you can even sell whole collections (if this is suitable for your product). Anything to keep her interested and lead her towards the desired action.
Action
To take action - to buy the product the visitor has to be absolutely confident in her choice, in the site security etc. Businesses have to
REDUCE CLIENT'S ANXIETY
about making the right decision. This means they have to provide all the information necessary to execute a buying decision. Shipping promotions, product guarantees, return policies, security certifications, all the ways to contact customer service including a toll-free number if the store has one--- all of these things are important.
Selling does not end with adding a product to a shopping cart. There are lots of factors to take into account before the order is actually placed. The
checkout process
has to be optimized so that the number of abandoned carts is minimal. Businesses have to give all the information about shipping and taxes instantly, as soon as possible during the checkout process. That way customers are always aware of the full cost of their purchase. Some customers (especially repeat ones) may prefer to fast track to placing an order. An
express checkout
page should be available for them. Others may not want to register on the site so there should be an option to
checkout as a guest
on the site.
There are some businesses that offer products that must be bought on a regular basis. For them having
auto-ships & recurring billing
is essential. They save a lot of time to the customer and ensure their future orders. It is a win-win feature for both customer and retailer.
In case the cart is abandoned by the user for some reason, there should still be a method in place for engaging the customer in an unobtrusive and helpful way. Sending out automatic abandoned cart reminder emails is a great way to do this. These emails simply remind the customer that they have items waiting in their shopping cart, and can even include a monetary incentive, such as a coupon, if the customer should choose to return and complete their purchase.
After the order is complete, you should do whatever it takes to keep the connection with the customer. This is the so called '
retention
' stage, that many marketers talk about and include after the action in the AIDA model. As customers who already bought from you are easier and less costly to persuade to buy again compared to new customers, you should take special care of them. With so many social networks and other opportunities to connect, this should not be difficult. You can send follow up emails, and incentivise product reviews. You can create loyalty programs offering reward points for future purchases. You can even compile user details such as birthdays to send out personal greeting cards and special offers for birthdays and/or holidays.
Past and Future
While marketing and selling in the online environment is a relatively new concept in terms of history, the AIDA model, which is well over a 100 years old, clearly still bears relevance to this emerging market. In our constant focus on new methods and new technologies to gain and retain customers, it is important to remember all the essential ways in which our businesses remain the same. By framing ecommerce success factors in terms of the classic AIDA model, we hope to have highlighted this key concept for the reader in a manner that is both deferential to the past, and looking towards the future.
---