Optimizing Customer Engagement with Social Media and Merchandising Tools
Tea Collection brings worldwide cultures and modern design to children's fashion. Twice each year they pack their bags, travel the globe, explore and discover, and then bring it all home in original designs that express the spirit of adventuring abroad. The name of the company comes from the drink, as tea is shared in nearly every culture around the world. The company values sharing discoveries and encouraging adventure.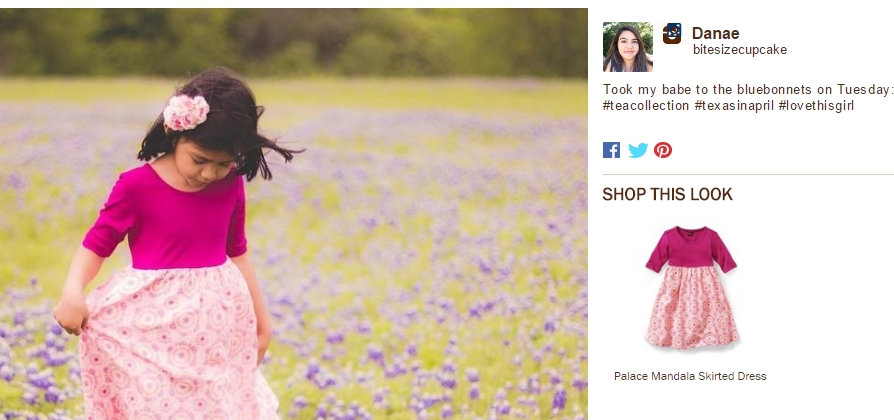 The Challenge

As a company that puts great value in taking adventures and trying out new ideas, Tea is constantly looking for ways to engage customers and promote their products in unique ways. Upshot is the perfect partner to help them develop and deploy new tools to reach their audience, share their adventures, and spread their brand.
The Process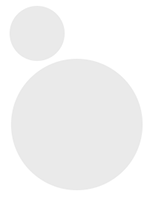 Tea has worked with Upshot Commerce since 2010 and this partnership allows for great mutual understanding of the priorities and skills of each company. This relationship helps Upshot understand the marketing and other aims Tea has in mind when developing new tools, such as the Lookbook, Shop Our Gallery, or Pinboard Wish List. Over the years, the focus has been on how - from a platform perspective - Upshot can provide new, dynamic ways to appeal to and attract customers, driving sales and engagement with customers on social media and beyond.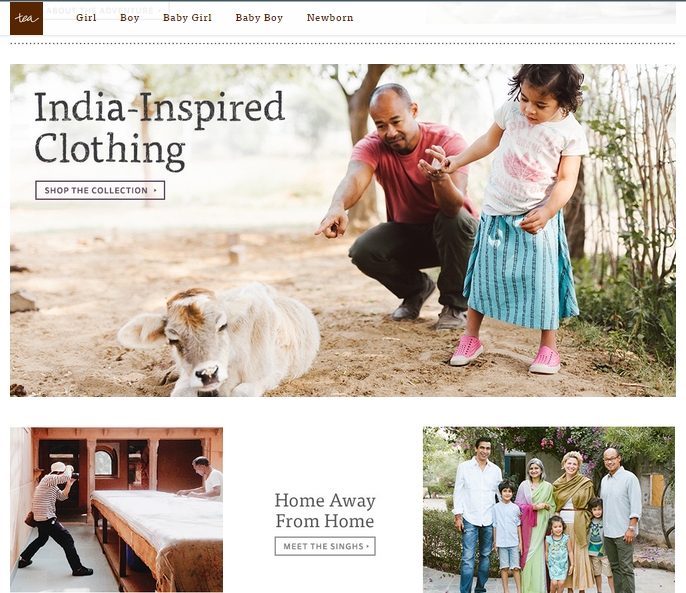 Shopping the Look Goes Social
With vibrant and exciting designs, Tea wanted new ways to help customers find their perfect look - and make the experience more social. For customers who arrived to the site knowing what they wanted, Upshot offered easy-to-use tools to make it easy for Tea to merchandise those items and for customers to find them using search terms and filters. For customers in search of nothing specific, Upshot designed two solutions - the Lookbook and the Match Maker. The Lookbook allows customers to browse and buy complete looks from a single page, capitalizing on a natural cross-sell opportunity. The Match Maker allows customers to mix and match outfit components (such as swimsuit tops and bottoms) to find their favorite look and make their Tea experience their own.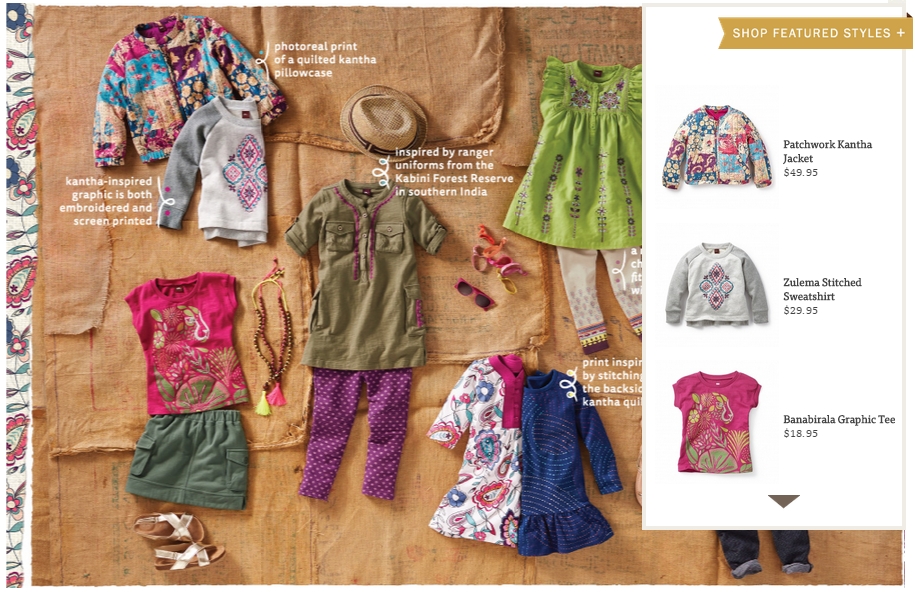 To provide an opportunity for Tea customers to engage with others and share how they wear Tea apparel in the real world, Upshot developed a means for customers to browse and shop looks from social media pictures posted by fellow Tea fans. Integrating with Olapic, the photo gallery shares images tagged with one of several hashtags, such as #teacollection, from various social media sources. This innovative Shop Our Gallery feature provides customers with a sense of their place within the Tea community, gives them an opportunity to share their Tea adventures, and easily buy the featured items.
Social Wishes and Reviews
Looking to offer innovative ways for customers to see and share Tea Collection merchandise, Tea and Upshot worked together to create a Pinboard Wishlist. This update to the traditional model allows people to socially share images of items they add to a wishlist.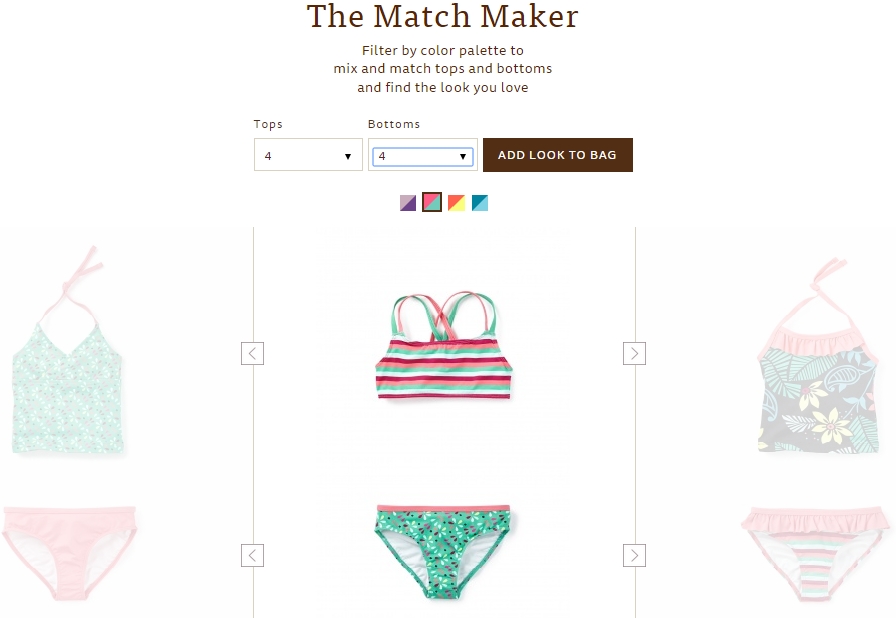 Additionally, Upshot integration with Facebook - and an active social media presence with over 179,000 fans - help Tea spread new collections and merchandise among customers and fans. Monthly photo contests highlight people taking the clothes into the real world, while a recent Facebook review contest encouraged fans to write and share reviews on recent purchases. As with the Shop this Gallery feature, social reviews help customers find their place within the greater Tea community.
The Result

Working together, Upshot and Tea have developed numerous, innovative merchandising tools over the years. As a fully customizable platform, Upshot can capitalize on opportunities to grow and evolve in response to new ecommerce demands. Tea remains committed to taking adventures to find inspiration for their dynamic, vibrant collections, and Upshot remains committed to supporting them so they can expand, remain successful, and continue to blaze new trails.

"Upshot Commerce helps Tea Collection deliver unique experiences with engaging features and content management tools that enable us to make the foreign familiar for customers. We share a close partnership with Upshot that extends from ideation to delivery, and through this partnership we've been able to bring customers along the journey of our current destination by integrating engaging content with and product stories that create a unified shopping experience."
- Patrick Rice, Ecommerce Product Manager

Upshot Commerce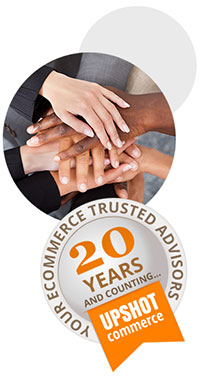 Upshot Commerce provides a comprehensive platform with robust, enterprise-ready features and best practices for Direct-To-Consumer and B2B e-commerce. Our solutions come standard with tools to control, manage and automate inventory, order management, fulfillment and warehousing, customer information, analytics, SEO, product information, merchandising and faceted navigation, and more. These components come as an integral part of the platform, while with other vendors, they often are through third party providers and with extra cost and headaches. Our platform also integrates exceptionally well with ERPs and 3PLs and contains a rich Restful API to provide a seamless, automated workflow for you enterprise.

Upshot Commerce has been in business for 20 years, with hundreds of clients, millions of transactions per month, over a billion in sales processed. A key aspect that sets us apart is how we approach each customer as a partner. The results speak for themselves: When the average online retailer changes platforms every 4 years, our average customer has been with us 7 and a half years and some as long as 18.
Contact Us