How you can benefit from Solr Integration
For most ecommerce retailers out there, having a fast, intelligent search solution is incredibly important. Most
studies report
that at least half of site revenue may be generated from visitors using search functionality.
That is why major websites and online retailers are moving away from traditional category trees and searches towards a solution that combines the refining capabilities of category browsing with the pin point specificity of search fields. This new onsite search solution is known as faceted search, or guided navigation. With this new technology, you can achieve more than just improved product discovery but also help to build client relations and achieve revenue growth.
In this whitepaper we'll talk about how you can benefit from having Solr guided navigation & search integrated in your platform and review real life examples to illustrate just how useful this extension is for the business.
Ergobaby
is a baby products website with a primary audience of young mothers. Their clientele tends to be not only young but also tech savvy, with an appreciation for style and modern aesthetics. It was very important to Ergobaby to create a site for their users that would showcase their products effectively, while taking advantage of the latest technologies to appeal to current trends. This technology also allowed Ergobaby to take advantage of superior marketing opportunities that Solr provides.
Instant Sale
with auto suggest
An intelligent search is an excellent way to help customers find the products that they are looking for, but it can also be used to make suggestions directly to the customer, right from the search field. In the below screen shot you can see this at work in Solr's auto suggest feature. When the customer begins typing in a word or phrase, the search field automatically begins populating search suggestions of like phrases below, aiding the customer in locating exactly what they are looking for even more expediently. However, it doesn't stop there. In additional to search word suggestions, the auto suggest feature also pulls up details and imagery of specific products that match the search parameters. All of this happens before a customer select a thing, or hits an enter key.
This type of dynamic response can help customers find what they are looking for more quickly, and also helps to enforce a general ease of use, and understanding with customers. If you can show a customer the exact baby blue swaddler they are looking for directly in your search field, that can result in an instant sale and an instantly happy customer who feels that you understand their needs and desires. This sense of general happiness and understanding in turn is what often results in not only satisfied customers, but also repeat customers.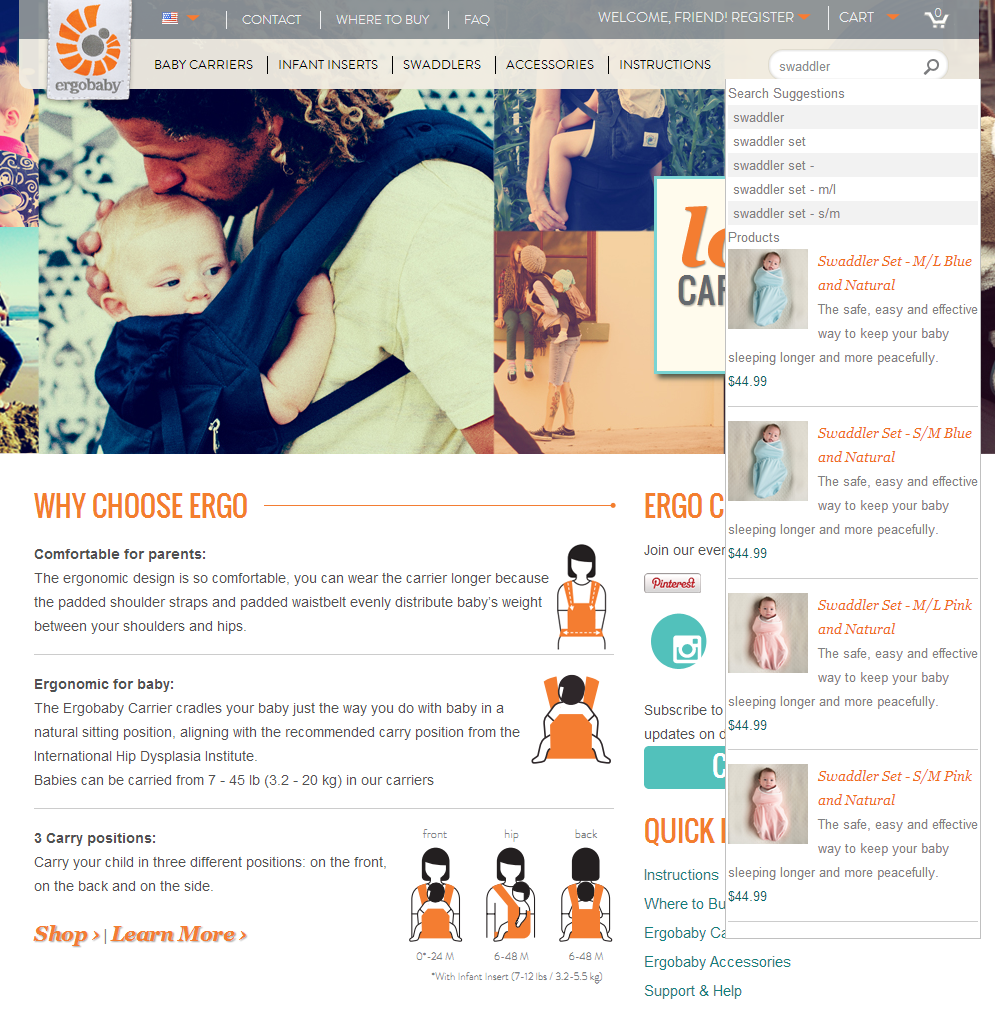 Sell Being Agile
with spell checking and "did you mean?"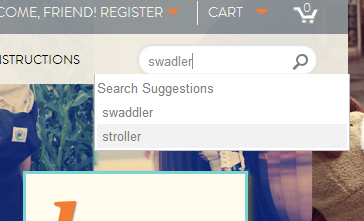 Anyone who has worked with primitive search features over the years knows the difficulty and frustration of spelling inaccuracies. Slight misspellings, missing letters and even noun plurality can trip up searches, and result in customers being unable to find what they are looking for. Furthermore, as technology has advanced, it has become even easier to generate empty searches. Mobile devices, tablets and other touch screen devices may make it easier than ever to browse the internet from just about anywhere, but they also make typing remarkably more error prone.
This is why using a search with spell check and search suggestions is so important. In order to guide the customer most effectively, these suggestions should be made dynamically as they type. In the below example, you will see the user misspelling the word "swaddler." The search suggestions below have generated a short list that includes not only the correct spelling of the word, but also an additional word that is similar. This allows the user to select one of these two words instead, thereby correcting their mistake before they have even completed their search.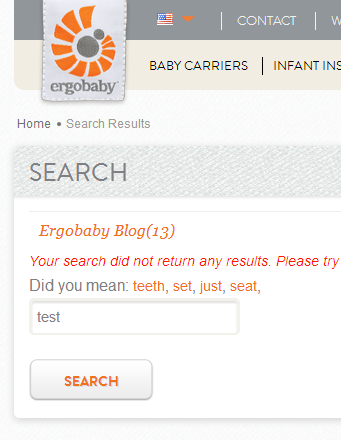 However, misspellings are not the only issue that may occur with search results. Often, a customer may type in a synonym for a word that is not used on the site, or they may type in a search term that simply generates no results, because it does not match any products on the site. In these cases, it is important to give the customer some direction as to where they might want to go next, in order to encourage them to continue searching, or view the site in a different way. Solr offers the built in "did you mean" functionality to assist in this. "Did you mean" is basically a suggestion field that appears after a user has typed in a search query and achieved no results. The field can show alternate spellings of words, related words, or even simply a few commonly searched terms, to give the user some ideas. These prompts encourage the user to continue searching and try other terms, rather than simply giving up and leaving the site, which can help to reduce bounce rates.
Importantly, all of these features, though they can benefit from knowledgeable input from the merchant, are intelligently designed. This means that the search can often dynamically determine like or similar words to any search term entered without requiring the merchant to come up with every different possible permutation of the word " baby stroller."
Sell Being Social
integrating your blog/cms
There is more to Solr than just executing lightning fast searches. You can easily extend search to other content, such as news articles, store information, or as in the case of Ergobaby, the company blog.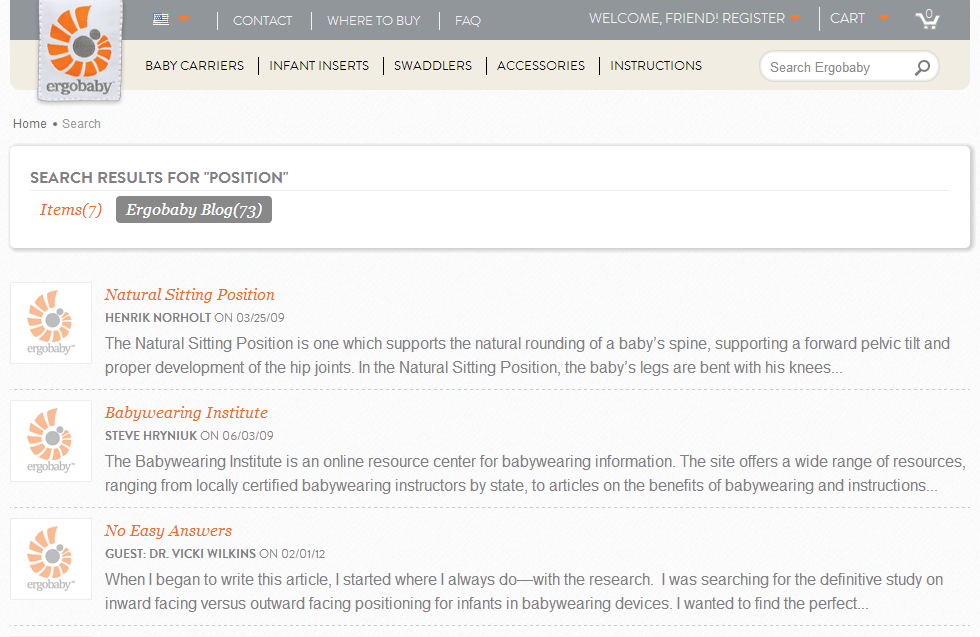 With blog articles shown as search results, Ergobaby is providing value-added content to users, showing that they are not just selling products, but also understand and care about their customers. Their blog contains information relevant not only to the use of their products, but also the lifestyle that surrounds those products, from personal stories to doctor recommendations. Allowing their blog to be searchable extends the usability of this information to their customers, enforcing the idea that their company is more than just a business, they are a valuable resource to their customers.
Importantly, as you can see above, non-product search results are also separated from product search results, to ensure that this content is not aggregated to the point of being irrelevant. This means that customers have full searchable access to all the varying types of content on the site, organized within search results in such a way that it is easy to hone in on the precise desired result.
Sell Empowering Your Customers
with faceted navigation
Faceted searching allows the consumer to refine searches dynamically with layered navigation, narrowing down a search by parameters such as color, size or specific keywords. It is intended to be more dynamic, more interactive and more in tune with the ways that people think and navigate websites. To showcase this feature, lets look at another website,
The National Gallery of Art
.
National Gallery of Art
(
www.shop.nga.gov
) is a large and complex institution and so is their shop's inventory. Products vary widely, from children's toys to reproductions of famous works of art. Their clientele is highly discerning and interested in sometimes very specific information, such as the style or period of a work, or the material composition of a necklace. In order to make it easier for their customers to shop and find this information, the National Gallery employed an advanced form of faceted searching.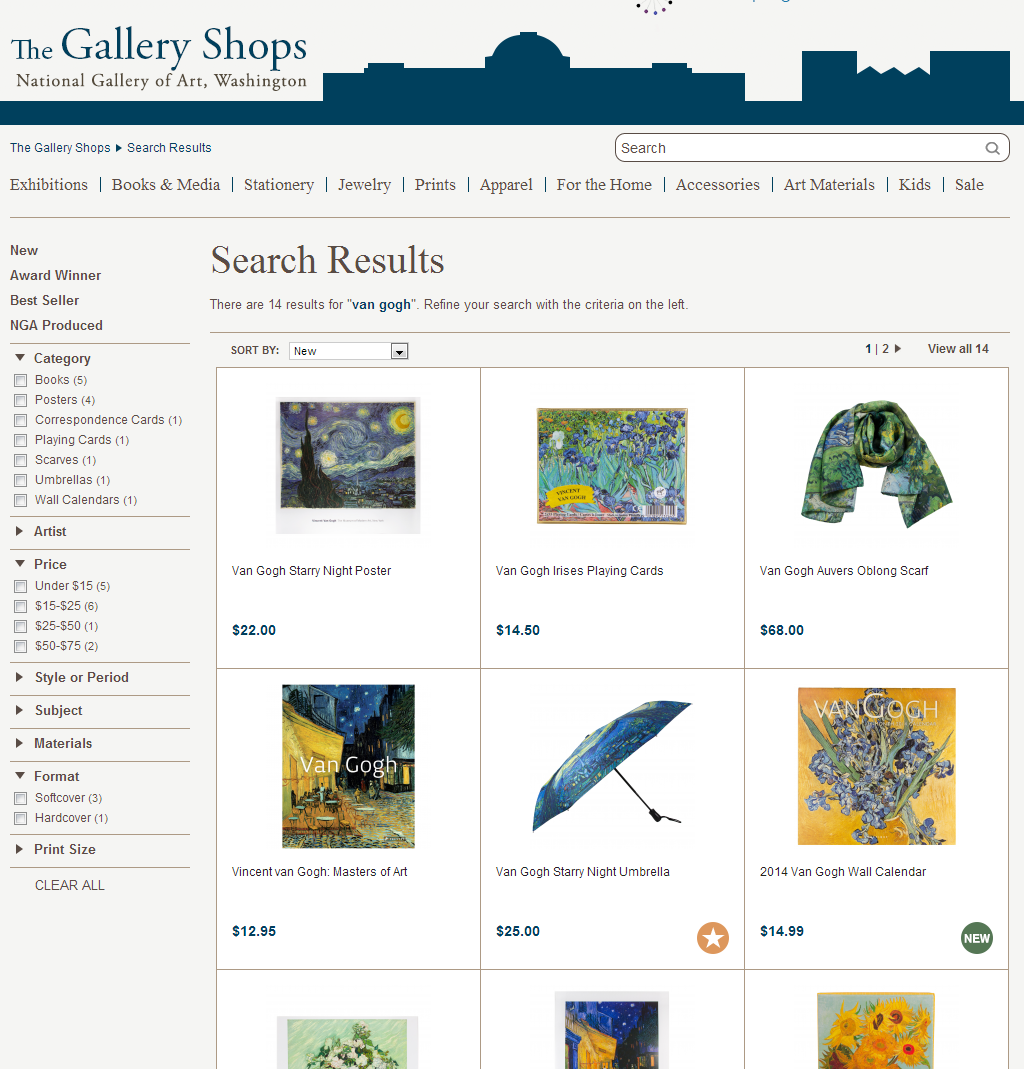 This allows users to filter categories and search results by pre-defined criteria that the Gallery decides are relevant. These filters can even vary per category, or by the type of data searched. In the case of the Gallery, for example, books can be filtered by format (hardcover or softcover) while jewelry can be filtered by materials used (gold, silver, glass, etc.). This selective filtering results in more relevant search options that more effectively assist the customer in finding the items they are looking for.
Filters can be generated by specific product data points entered by the user, as is the case for the filters described above, or they can be dynamically generated by statistical calculations. Using specific algorithms, Solr can be used to create filters for such things as best selling items, new arrivals, or most reviewed, collected from data generated by your site and your site's visitors.
However filters happen to be generated, the essential point is that users can continuously refine search results using any combination of the criterias, while moving from browse mode to search mode and back to browse seamlessly. This type of fluidity and control helps to keep the buying process continuous, guiding the user easily towards their desired results and a subsequent purchase.
Sell The Future
with extensible plug in architecture
For both Ergobaby and The National Gallery of Art, one of the central aspects that was appealing about Solr was the way in which it was able to adapt to their needs and solve issues specific to their client base. While Solr is powerful and full of useful features, neither company uses it in the exact same way. This is itself a benefit; Solr technology is not a rigidly defined software package that your site must conform to in order to see any benefit; it is a technology that can be adapted and used as a whole or in parts to achieve goals.
Furthermore, as time goes on, more aspects of the technology can be employed as a website develops, or as the needs of clients change. If a client is primarily interested in employing faceted search, but not auto suggest functionality, that is fine. As a site progresses, additional functionality is easily employed and incorporated into existing framework.
Many factors can explain why Solr is being adapted by so many ecommerce retailers: lightning fast search, intelligent auto suggest, customizable data searching, and superior modern filtering options. However, we hope that this paper has helped to illustrate not only the features of Solr, but also how they can be realistically applied to real businesses, with real clients and real world concerns. Ultimately, it is how a product is used that is the proof of its usefulness, and the potential applied uses for this are only increasing.