Sideshow Collectibles – A Client Case Study
About Sideshow Collectibles
Established in 1994, Sideshow Collectibles is a specialty manufacturer and distributor of high-end licensed and proprietary collectible products. They serve a passionate community of more than 212,000 users in 123 countries. Their development team creates original designs and intricately detailed likenesses of popular characters from highly recognized brands, such as Star Wars, Marvel, DC Comics, The Lord of the Rings, and more. Sideshow is regularly recognized for the quality and authenticity of designs, including "Best of the Year" distinctions, by national trade and specialty publications.

The Challenge
After cultivating a strong ecommerce market and devoted, passionate customer base, Sideshow began looking for ways leverage information to better target their customers. They decided to integrate an on-site marketing layer – AddShoppers – to better understand customer browsing and purchase behavior. Upshot provided the tools to develop that on-site layer of engagement to fit Sideshow's business needs; AddShoppers provided the tools to engage site visitors, measure activity, and grow sales.
The Process
Sideshow Collectibles began working with Upshot (formerly Make-A-Store) in 1999, taking advantage of platform customizations to allow for effective presentation of their unique merchandise. The close relationship that developed between the companies has allowed Upshot to thoroughly understand Sideshow's evolving business needs, working together to develop the tools necessary to allow Sidedshow to grow, and providing ongiong exceptional service and support. As Chris Pirrotta, Director of Ecommerce for Sideshow explains, despite their complex database and merchandising needs, "We've never had any limitations to our software. That has been extremely effective in our market, allowing us to adjust quickly. The level of support has been above and beyond."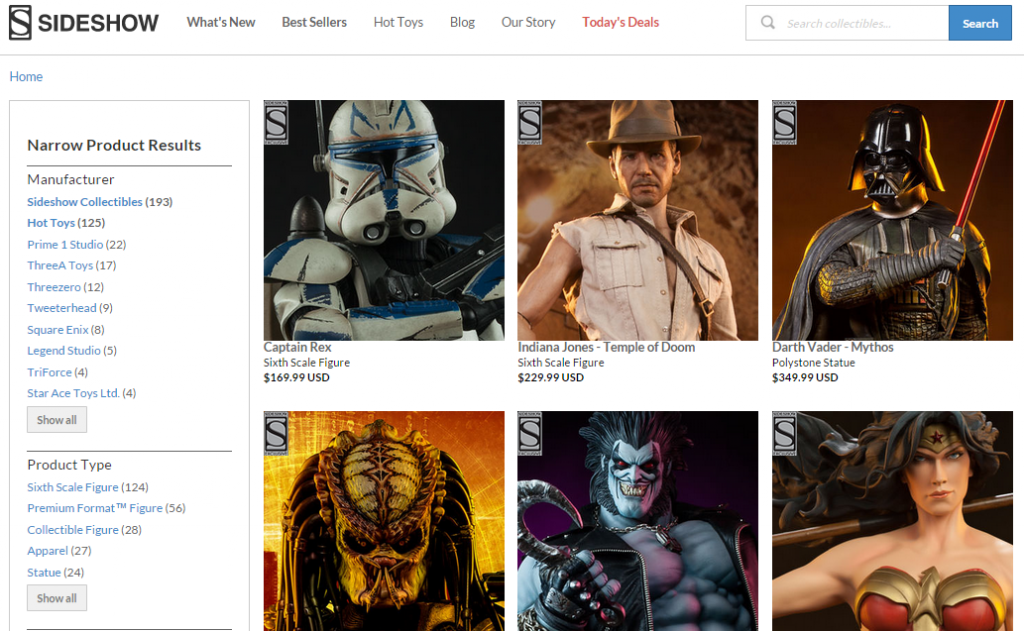 The numerous merchandising tools available to Sideshow through Upshot – from core platform components to existing extensions to newly-developed features – have allowed them to cultivate a large, passionate customer base. Sideshow is able to manipulate their databases daily, making adjustments based on customer behavior, and keep inventory fresh and accurate – it's flexibility they can't get from any other platform. As Pirrotta says, Sideshow "doesn't consider looking anywhere else because the [Upshot] platform is so great." The company has utilized these tools and customer passion over the years to their advantage, developing a rewards program, and building a successful affiliate program that allowed Sideshow to expand internationally.
Leveraging Passionate Customers
Sideshow had already taken numerous steps to leverage its large, passionate customer base. Partnering with AddShoppers and integrating their software into Upshot was a logical next step. Having an on-site marketing layer allows for instant social feedback from their highly-passionate customers. Customers can share finds and purchases with friends, generating excitement that is critical to the success of Sideshow.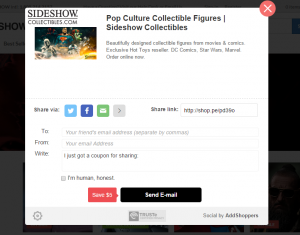 Facebook integration has also proved highly useful for Sideshow, especially in partnering with AddShoppers. In addition to incentivizing Facebook sharing, the Want/Own buttons help increase and deepen customer engagement with Sideshow. With AddShoppers Sideshow has been able to identify influential fans, observe their behavior to better understand their browsing habits and develop and adapt marketing strategies based on more comprehensive information about fan behavior.
The Result
Since Sideshow Collectibles launched with AddShoppers in May of 2014, they have identified nearly 5,000 social influencers and analyzed their sharing habits to better understand the role social media plays in the Sideshow customer experience. Over the last year, the top 500 products have been shared 979 times, primarily on Facebook (75%) but also via Google+, email, and Pinterest. Reporting available through AddShoppers indicates the majority of Facebook engagement comes from the "Like" button on the product page (12,000+ Likes across all products), but customers also utilize the Want/Own options (3,195 and 576, respectively), and post products to their personal Facebook pages (5,757 posts).
Analysis from AddShoppers indicates that conversion is most successful when items are shared via email (16%), though Google+ resulted in conversion 3% of the time, and Facebook with 1% of shares – figures consistent with AddShoppers 2014 Social Commerce Breakdown. One of the most commonly shared pages, for a sixth scale figure of Marvel character Deadpool, was shared by identified influencers 125 times, generated over 7,000 clicks and 194 orders sitewide, with an AOV resulting from shares of $422.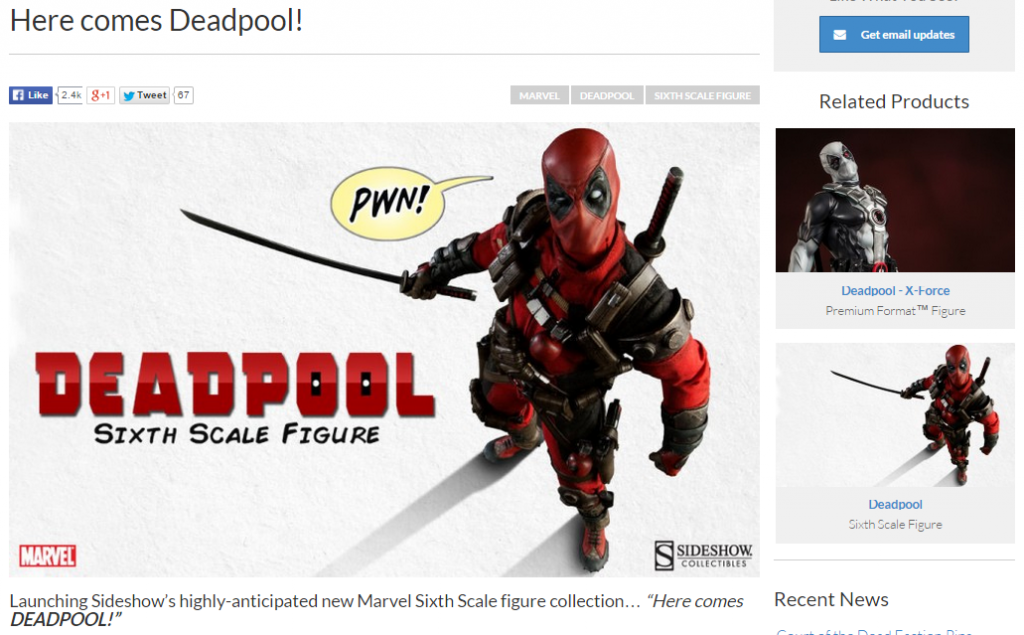 Working with both Upshot and AddShoppers has proved successful and painless for Sideshow. As Pirrotta explains, both Upshot and AddShoppers have "always been extremely effective in communication, providing timely and quick responses to issues." Upshot provides "personal and intimate support from the team, with a history of responding to needs as they come up," while getting a response from AddShoppers has been equally painless – "When you want an answer, they have it for you almost immediately."
Over the last 16 years, working with Upshot has allowed Sideshow Collectibles to craft an ecommerce platform ideally suited to fit their business needs – from Want/Own buttons, to an affiliate program that allowed for growth internationally, to a rewards program built with Sideshow customers in mind. All these tools were integrated with an easy-to-use backend toolkit that allows Sideshow to manipulate their databases daily, responding to changes and trends in their market. Partnership with AddShoppers has assisted Sideshow in better understanding customer data and browsing behavior, and allowed them to make informed marketing decisions and increase social engagement across their growing customer base.
About AddShoppers
A

ddShoppers powers social commerce for over 10,000 brands including The Economist, NCR, O'Neill Clothing, and Everlast. With just a few snippets of code, marketers are empowered with accurate revenue attribution, exportable lists of purchase influencers, and easy to create referral marketing campaigns including Refer-A-Friend, Social Rewards, and more. With AddShoppers it's easy to collect more emails with dynamic targeted Smart Offers plus our Smart Social Sharing Buttons are built to enhance your email marketing and retargeting campaigns with powerful social data. Visit AddShoppers to learn more about what they offer.