About PR Photos
PR Photos is a leading independent photographic press agency. They supply high-quality photography to the world's professional media companies on a daily basis. PR Photos has extensive experience covering major entertainment, sports, news, fashion, corporate, and feature events. A great mixture of top industry photographers and dedicated sales people make PR Photos a leader in the Celebrity Stock Photo industry. The company has database of over 2 million images, hundreds of photographers, and a state of the art digital delivery system.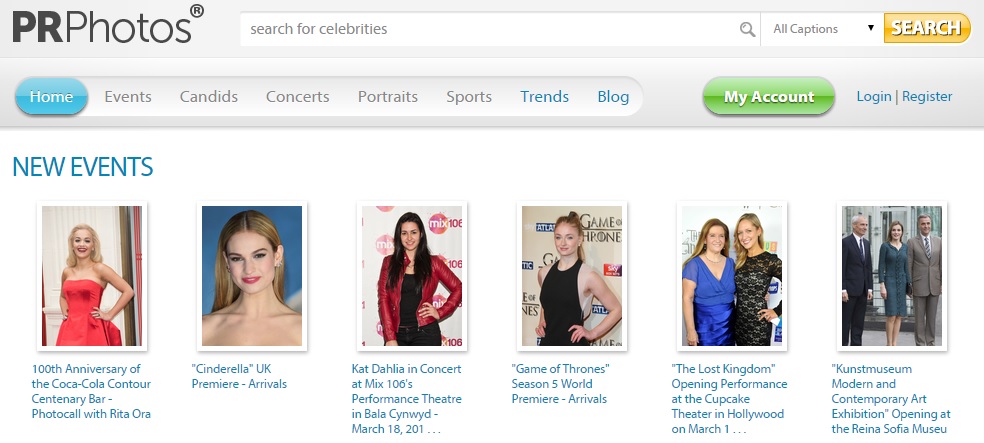 The Challenge
PR Photos needed a platform that would allow for numerous customizations specific to their business – providing celebrity photos for media use, with up to 2,000 images loaded each day and hundreds of photographers submitting reports and commission requests. After working with six previous vendors, the company was looking for a new platform that had all the necessary features to support their business as well as highly capable developers behind the software and ongoing support and service.
The Process
Due to the unique customizations required for their business, PR Photos was looking for a platform that had robust out-of-the box features and a nimble platform that could could meet those needs through supported customization.
After years of working with other platforms that didn't offer all the tools they needed, PR Photos decided to make a change. As CEO and Co-Founder Scott Burkhead explains, "At the beginning upshot was slightly more expensive but had a much greater feature set than the others. In the end after speaking with [Upshot] and understanding that the other companies could not do what I wanted, I came to one conclusion: software is not really about the cost, it is about the support and ability of the developers behind the software."

Support, Support, Support
Although customization was a primary concern when looking for a new ecommerce platform, strong talent and support behind the platform were also essential. Over the near decade and a half that PR Photos has relied on Upshot, the support and service have remained consistent. As Burkhead says, "As a long time user of the platform I can say I have NEVER experienced support, service and after sale care like Upshot has provided." Upshot remains committed to supporting our clients long after installation and site launch, providing updates and new features on an ongoing basis – both customized solutions based on client request and ecommerce improvements that benefit all of our clients.
The Result
PR Photos has been using the Upshot platform for 14 years and remains continually satisfied. As Burkhead explains, "I have a partner that I can trust. I can trust that the job will get done and that it will be done well. If I need advice I will get reasonable and thoughtful advice. " Since transitioning to the Upshot platform, PR Photos has published more than 35 million images, with an active database of more than 2 million photos. Upshot easily handles the complexities of their system and offers reliable tools for their group of independent photographers to provide material, report, and receive commission.
In their own words
"At first working with any company is a leap of faith. Wondering if they will care as much as you, or get it done is unknown. We have all been burned, and in business that means time and money. Upshot has exceeded my goals in every way." – Scott Burkhead, CEO, PR Photos
Find out more about PR Photos at their website.