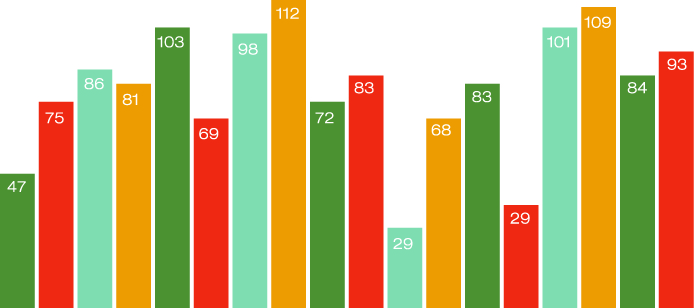 Now that the Holidays are winding down, your mind may be turning to the coming new year, looking ahead to expectations and plans for the next retail season.  There is a lot to be learned from each holiday season and a number of improvements that you may want to make as a result, whether it is modifications to shipping, or adjustments to the store inventory.  However, one of the most important changes retailers can make post holidays is to invest in analytics.
At Upshot Commerce, we offer a variety of comprehensive services that allow our customers to turn basic numbers into something actionable.  From recommendations for site optimizations, to email efficacy reviews and online ad spending recommendations, our technical marketing team can provide valuable insight into often complex data and help you stay well ahead of the competition.
Measuring The Value of a Customer
Being able to determine who your most valuable customers are can help you to market your products and services smartly, to just the audience that will be most receptive.  However, figuring out who exactly these valuable customers are can be a time consuming hassle. What parameters determine who is valuable, and who is not?  How do we compile this information in a way that is easily accessible and actionable?
Luckily, Upshot Commerce can do this work for you.  We compile a number of custom variables to calculate the value of each customer. Then, we can use this information to determine:
general and user-specific buying patterns
profitability
buy vs return of merchandise ratio
engagement value (referrals, reviews, etc)
Once calculated, this information can be used to create special targeted promotions for highly valuable customers.
SEO Optimization
Whether or not anyone likes it, getting organic traffic to your site is all about playing by Google's search engine parameters and requirements.  However, as anyone who has worked in ecommerce for any length of time is well aware, these requirements are constantly changing and being modified.  Search parameters are refined and web crawlers are made more intelligent in order to create better results for users, while site creators are constantly attempting to find ways to optimize their sites to appease the search engine.  The grand hope is that in the end we will all have a better, more refined internet experience that makes it easier and easier for customers and retailers to connect.
However, this is still the free market we are talking about. You don't just want to be relevant; you want to be the best.  At Upshot Commerce, we work to keep your site always up-to-date, with SEO-optimized URLs and meta-data, semantic and optimized HTML markup, rich snippets, easily crawlable pages, duplicate content prevention, canonicals, minification and minimal page load times.
We also offer consulting services, to help you determine the best structure for site content and keyword optimization. When coupled with an easily navigable site and a constant vigilance towards SEO best practices, this can result in vast improvements in organic search results and increased traffic for your site.
Vanity URLs
Keeping consistent, SEO-friendly URLs on your site is important in maintaining an organized site structure.  It is also one of the easiest ways to increase your ranking in Google search results.  URLs should concisely and predictably indicate in natural language what page they are directing customers towards, in a readable manner that is optimized with SEO-friendly keywords.
However, these requirements don't always fit with the logical structure of your site, or the manner in which it may have been created.  Furthermore, the standards for what constitutes a truly optimized URL are always changing; what might have been considered best practice five years ago is not necessarily the same today.  How is the intrepid ecommerce store owner supposed to keep up?
With Vanity URLs, of course.  Our system of vanity URLs allows ecommerce owners to easily create SEO-optimized redirected addresses for pages on their site, turning a long cumbersome string of numbers, letters and partial words into a concise phrasing that is optimized for users and search engines.
Integration with Google Analytics
While Google Analytics makes it fairly easily to begin gathering basic analytic data about your website, there is only so much information that it can pull about your site simply by putting a string of code onto a page of your website. All sorts of aspects of website activity, such as newsletter sign ups, shipping costs, abandoned carts and product activity are difficult to track and even more difficult to turn into actionable data.
However, with our Google Analytics Integration Services, we can create custom data feeds that incorporate all the information you need to get a truly accurate analysis of your website activity.  We assist customers in setting up the funnels, goals and tracking that will give the information that they require, providing a collection of insights that go beyond the out-of-the-box standard.
Important daily sales information from Google Analytics is incorporated into the customer's Upshot Commerce internal system reports, and is also available from the the Google Analytics dashboard, to allow the retailer to view the information in whatever medium is most useful.  This means that data analysis is always right at your fingertips.
Consulting Services
Finally, developing a strategy of accurate reporting and site optimization can be highly daunting for many retailers.  When it comes right down to it, many ecommerce owners simply do not have the time to spend reading up on the current SEO best practices and messing with a lot of reporting tools.  However, most retailers will also acknowledge that these are vitally important aspects to maintaining a growing, healthy site.
Upshot Commerce offers all sorts of different levels of consulting services, depending on what your needs are.  So, whether your marketing manager just wants a little help with SEO, or you are in need a complete analytic overhaul, we have the tools to assist you in achieving your goals. We custom design plans based on the needs of each client, and will work with you to develop a strategy designed to achieve long term growth and success.
Ready to get started?  Contact us today— we will work to develop a technical marketing and analytic strategy to achieve your goals.