You've determined that the time is right to expand your ecommerce company internationally. You've identified an ecommerce platform that offers multi-language solutions, offers an integrated backend toolkit to make managing your storefronts easy, and is versed in the SEO best-practices to ensure your translated, localized site will show up when customers search for the products you sell. Three important considerations remain before taking the global leap – currency conversion, shipping, and landed costs – to ensure customers complete purchases once they've found your global-friendly site.
Offer Currency Conversions in Real-Time
In addition to a marked preference for shopping in their native language, international customers appreciate having prices displayed in their local currency. Having a platform that can do instant conversions and present customers with accurate, current pricing in their preferred currency takes unwanted uncertainty out of the transaction and fosters greater confidence in your company with your customers.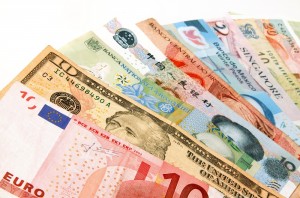 While third party vendors, like Borderfree, offer conversion software, the cost of utilizing their tools can often be prohibitive for small and mid-sized businesses. Having a platform that offers fully-integrated, real-time conversion eliminates the extra challenge and expense of integrating an external system. It also allows you to own and better understand and control your data. Reliable, accurate prices in their preferred currency lets shoppers in other countries feel welcome to interact with your brand, secure in purchasing your products, and inclined to promote your company.
Eliminate Surprises – Include Landed Costs
Unexpected costs are a primary reason customers abandon carts before completing their purchase. When courting international customers, landed costs and shipping are two figures that could determine whether a prospective shopper will purchase from your site or from a locally-based competitor. The Upshot international extension automatically calculates duties and taxes – based on customer location and cart contents – so there are no unexpected costs for the customer, either at checkout or upon delivery.

By including all landed costs – whether Canadian duties, VAT, or other fees – in customer transactions, you can reduce the number of packages returned to you through customers refusing to accept delivery, lowering return rates and ensuring your company will not have to absorb costs associated with refused merchandise and attendant lost sales.
Provide Straightforward (and Affordable) Shipping
As with landed costs, shipping can be an important consideration for prospective international customers. Providing an array of shipping options – at reasonable rates – is a crucial component to building lasting relationships with customers abroad. Expectations on shipping time and cost can vary widely from country to country – some customers prefer to wait longer while paying less; some are willing to spend more to get items faster. Upshot allows for integration with numerous shipping options – from the USPS to UPS to FedEx to DHL and more – all of which integrate seamlessly into the Upshot toolkit.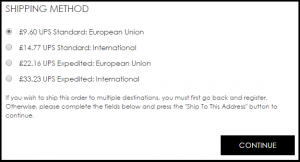 By providing reliable shipping and delivery – including tracking information and insurance where possible or prudent – you foster confidence in your new international customers. Working with trusted brands signals to them that their merchandise won't disappear somewhere between your warehouse and their front door. You can work with the shipping vendors that make the most sense for your target customers, offering price and speed that meet their expectations.
Moreover, if you have the capacity to ship from one of several warehouses, utilizing Upshot's inventory management tools can help you ship merchandise from the location best situated to reach your customer quickly.
Planning for Successful International Expansion
As discussed previously, expanding internationally may not be the right step for every business. But when you've decided to make that move, invest in the tools to help you succeed. There are numerous additional considerations not outlined here, but planning for those listed above are a good first step. Presenting merchandise in local currency, with real-time conversion, including landed costs, and offering familiar and reasonably-priced shipping options will go a long way in courting shoppers abroad – and turning them into loyal fans and repeat customers.