Black Friday and Cyber Monday are unique days for the ecommerce retailer.  The normal activity of steadily flowing orders is disrupted by the exhilarating insanity of a single weekend that for many retailers, is the culmination and make-or-break point of an entire year of sales.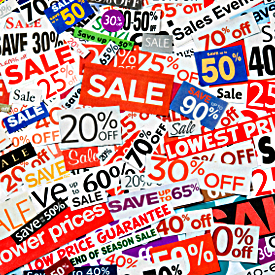 While your site might function on a day-to-day basis without problems, the real question is, are you ready for the busiest weekend in retail?  As an ecommerce retailer there are a number of things that you can do to prepare for Black Friday and Cyber Monday.
Over the next two blogs we examine ways retailers can prepare their sites for these busiest and most lucrative of days.  Today, we look at two topics: Alternative Payment Gateways and Gift Registries.
Sure, your site might function just fine 360 days out of the year with just PayPal as your primary payment option—but what happens if your payment gateway fails on the busiest day of the year?
Payment gateway outages occur periodically every year.  As with any website, occasionally there are site errors or even malicious attacks that cause payment gateways to fail for periods of time.  Just last Wednesday, Paypal customers experienced outages for nearly four hours.  While outages on an October night may not cause a site to go bankrupt, a major failure on the busiest shopping day of the year could.
There are two ways to protect your site from losing sales due to payment gateway outages.  One solution is to give your customers multiple payment gateway options, such as Authorize.net, Litle & Co., Google Checkout or Chase Payment Tech.  Doing so ensures if one payment option is not working, the site will roll over to the next available gateway.  The roll over is transparent to the user and the sale can be completed.
While this is an important first step, many customers will still abandon their carts if a payment gateway fails.  In an earlier blog, we addressed this very issue. Essentially, the problem is that when a payment gateway fails, a customer will often simply receive an error message indicating the payment cannot be processed, without further explanation.  Rather than attempting another form of payment, or contacting customer service to solve the problem many customers will simply abandon their carts and shop elsewhere, assuming some unsolvable technical issue.
At Upshot Commerce, we solve this problem by offering the Rollover Payment Gateway Extension.  With this extension, if a payment gateway fails, the order is automatically bumped to an alternative gateway, without causing a disruption to the ordering process.  This ensures customers are able to complete an order, and thus reduce your abandoned cart rate.
By the time Black Friday or Cyber Monday rolls around, most customers have already scoped out the items that they intend to purchase for a number of weeks in preparation.  Gift Registries and wishlists allow customers to plan ahead and organize the products they intend to purchase, or might request as gifts from others.  Maintaining your own user-friendly, site-specific gift registries or wishlists not only makes your customers' lives easier, it also encourages them to shop exclusively with you!
At Upshot Commerce, we offer fully customizable gift registries and wishlists that can be tailored to meet the design and functional needs of any client's website.  Our wishlists include essential features such as:
Customer privacy settings allows for different levels public and private sharing of lists
List search allows gift givers to find any friend's public list
Quick and easy purchase of items on list
Duplicate purchase settings allows customers to select the exact quantity of an item desired
Thank You Reminder – sends the wishlist user a reminder to thank friends for purchasing items on their list, with customizable time frames.
In our next blog, we'll look at other ways that you can optimize your site for Black Friday and Cyber Monday, including Coupons & Discounts and Affiliate Programs.