There are a number of pieces that make up a working ecommerce retail website: There is the landing page, which is the first thing that most users will see, there are product descriptions, images, categories, order management, order fulfillment—however, it seems that one of the most talked about aspects of a retail website is this little guy right here: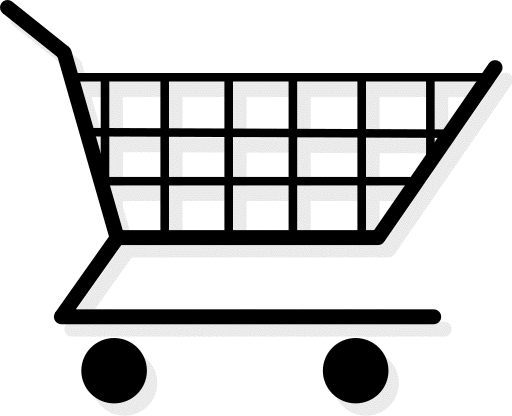 How do we convert browsers into buyers? How do we get our customers through the check out process in the smoothest, most effective manner possible without losing them to the frustrations of too many unnecessary steps, confusing information, or simple retail boredom?
There are a lot of opinions out there on this topic, but the most important thing to figure out first is:
What do you need?
What are the requirements of your site specifically? What information to you need to gather, and what do you need to let your customer know?  Creating a shopping cart and check out system that works for your site can, and should be specific to the needs of your customer and ecommerce business.  Fortunately, Upshot Commerce has the most customizable shopping cart on the market, which you can use to create the user experience that works for you.
Using the Upshot Commerce administrative back office, retailers can easily determine a number of features to work with the needs of their website.  Lets look at just a few of those.
No Registration at Check Out
This feature allows you to select whether or not you want to require users to create an account in order to purchase items on your site.  Allowing only registered users might be preferable for tracking information, but its not how everyone wants to shop.  Allowing users to order without becoming a registered user can help with conversion, and may be an option that you want to consider offering on your site.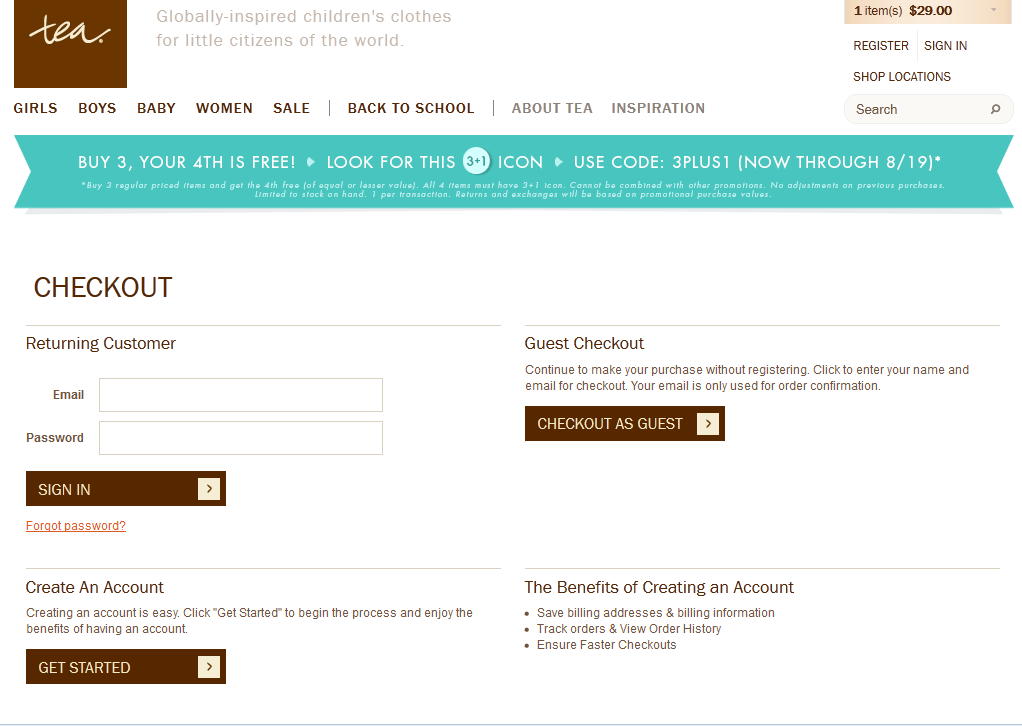 Tea Collection, one of our clients as seen above, encourages customers to create an account from the this same check out page, listing all the benefits that come with being a registered user of their site.  This is one of the most important opportunities to gather new users!
Re-Login for Checkout
If users tend to stay logged in for extended periods of time on your website, or if you save sensitive customer information in your system, you might want to require that they log in again when they are ready to check out.  Though this slows down the check out process a bit, it can be a necessary step of added security for many websites.
Terms of Agreement Message

Depending on what type of products you are selling, or services you are offering, you may want or need customers to agree to a Terms of Agreement policy before they conclude their purchase.  This feature allows you to upload your legal jargon and also create a message that will display when a customer is prompted, explaining why you need them to read your statement.  Other ecommerce retailers may not need this sort of statement to be explicitly viewed in order to conduct sales, and thus can easily opt to turn this feature off.
Cart Lifetime

Deciding how long to allow items to remain in a customer's shopping cart is a point that is argued over by ecommerce strategists ad nauseum.  Do you want a shopping cart that empties within a day or less to encourage timely purchases, or do you want a longer shopping cart life time to allow customers to come back to items days or even weeks later? With this feature, you can select exactly how many days each cart can remain without refreshing and determine what sort of time frame works for our site and your customers.
Extra Fields for Addresses
In order to send your customers their products, there are a number of fields that will be automatically required by your site (since they are needed for billing and shipping), including first and last name, street address, city, state and zip code.  However you may choose to also make certain other fields mandatory, if it makes sense for your site, such as phone, company or fax number.
As I said, these are just a few of the easily customizable features offered in our Checkout Management system.  Here at Upshot Commerce, we are always happy to work out custom options for retailers to create the ecommerce website that works for their business and their customers.