NuGlow Cosmaceuticals is a specialty skincare company focused on providing only the highest quality products to improve the appearance of skin. Established in 2003 in La Jolla, California, NuGlow was founded on the principle of providing high quality products and service at the lowest possible price using a direct to consumer model. Their skincare products, including their lead product line containing patented Copper Peptide Complex with more than 17 U.S. patents and 80 foreign patents, are designed to enhance skin appearance, reduce signs of aging and provide other skincare benefits.
The Challenge
When NuGlow CEO Steven Sheiner and his staff began looking for an ecommerce solution to distribute their growing product line to online customers, he knew immediately that he didn't want to reinvent the wheel.
"I was looking for an SAAS platform that was feature rich and easy to operate," says Sheiner.  In the past, Sheiner had explored many other ecommerce platforms that, while functional, lacked the full spread of features that he knew his new site would require.  "It really wasn't so much about cost savings, it was more about not having to worry about building new features and having to worry if the site is down and my developer is out of town."
NuGlow needed not only a robust ecommerce platform loaded with features, they also needed an ecommerce partner with knowledgable developers, capable of customizing their platform to their needs and providing them with ongoing support to resolve issues and ensure security.
The Solution
In Upshot Commerce, Sheiner found the feature-packed, service-oriented platform he was looking for. "What attracted me to Upshot was the fact that they'd already developed most of the features that I would have had to have developed if I'd chosen to go with a different solution." says Sheiner.
One of these features included an advanced auto ship extension. The advanced auto ship extension was applied to NuGlow's platform to allows their clients to sign up for automatic monthly deliveries of their specialized skincare kits.  Not only does this auto ship system allow customers to receive automatic shipments of needed products, it also allows for a wide array of members only benefits.   "The auto ship extension allows retailers to offer exclusive pricing and discounts to members that is separate from advertised on site pricing.," says Upshot Commerce CEO Neal Kaiser.  "It also allows them to offer all sorts of promotional discounts and offerings only available to members as well."
In order to ship these lotions, creams, cleansers and specialized skincare kits, NuGlow also employed a third party fulfillment center to get orders out fast and efficiently.  Upshot Commerce also was able to create an integration to allow a seamless flow between their online shopping cart and their fulfillment center.  "Working with a separate shopping cart and fulfillment system can mean all sorts of difficulties and headaches for ecommerce retailers," says Milanie Cleere, Chief Strategy Officer of Upshot Commerce.  "Their fulfillment center integration took away a lot of those headaches and drastically reduced the potential for errors."
Success
With the new site recently launched, Steve Sheiner sees a bright future developing for Nuglow, with better customer features than ever before, and an ecommerce team behind him to help achieve his goals.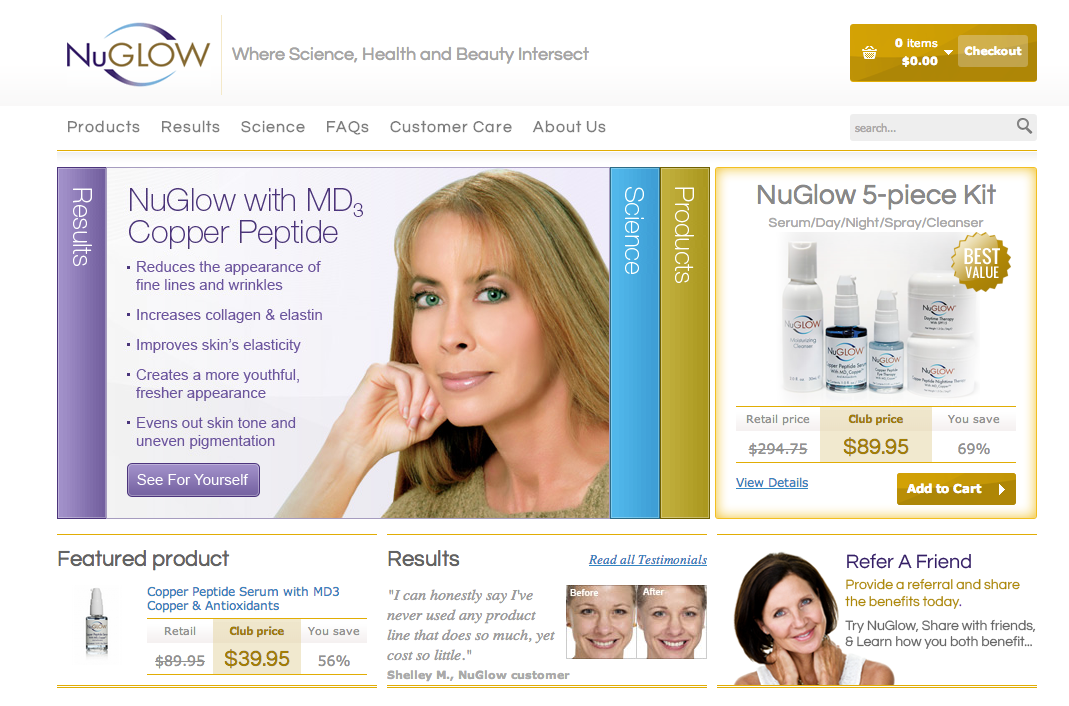 "I've worked with a lot of developers and programmers over the years and I've never had as positive an experience as I had working with Upshot." Say Sheiner.  "From the first day the project started I've always felt confident that they knew what they were doing, cared about the outcome and were vested in the process.  The Upshot team worked with me to create the milestones and in every case they met them. "
"I would most definitely recommend them to other companies."
Services and Extensions
Shipping & Fulfillment Management